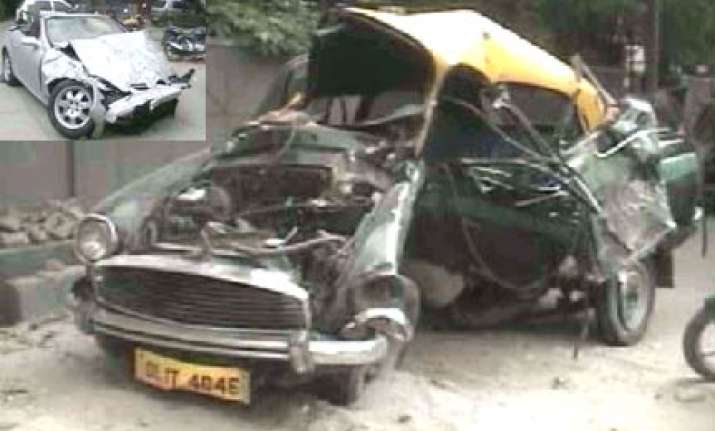 A Mercedes collided with a taxi near Africa Avenue in the R K Puram area of south Delhi around 3.30 am on Thursday, killing a 28-year-old unidentified woman. The police said both cars were speeding.  
The Mercedes belonged to Kanwar Singh Tanwar, a Bahujan Samaj Party (BSP) candidate in the 2009 Lok Sabha elections who joined the Congress a few months ago.  
The car was being driven by his son, Dinesh Singh Tanwar (26), who was arrested late on Thursday night and bailed out.  
There were unconfirmed reports that a woman was present in the Mercedes along with Dinesh. A CAT ambulance took the duo to a hospital from where they were discharged before the police could reach the spot.  
The unidentified woman and the taxi driver, Naresh Kumar, were taken to the hospital by the police. The woman was declared brought dead while Kumar is recuperating.  
The head-on collision took place on Africa Avenue, between Ring Road and Outer Ring Road. The Mercedes was going towards Ring Road from Outer Ring Road. Due to the impact of the collision, the taxi door flew open and the woman was thrown out of the car. ''She fell into a drain and suffered head injuries that proved to be fatal,'' said a senior police officer.  
Deputy commissioner of police (south) HGS Dhaliwal said: ''We have registered a case and investigations are on.''  
The police said Dinesh was returning from a party and was not under the influence of alcohol. Taxi driver Naresh Kumar's statement is yet to be taken. The police have sought a mechanical inspection of the two vehicles to establish the exact sequence of events.  
They are trying to identify the deceased through the contacts in her mobile phone book. No one has turned up to claim her body till now. The woman had hired the taxi from a stand outside a five-star hotel near Connaught Place.  
A case of rash and negligent driving has been registered at R K Puram police station. The two vehicles have been impounded, the police said.