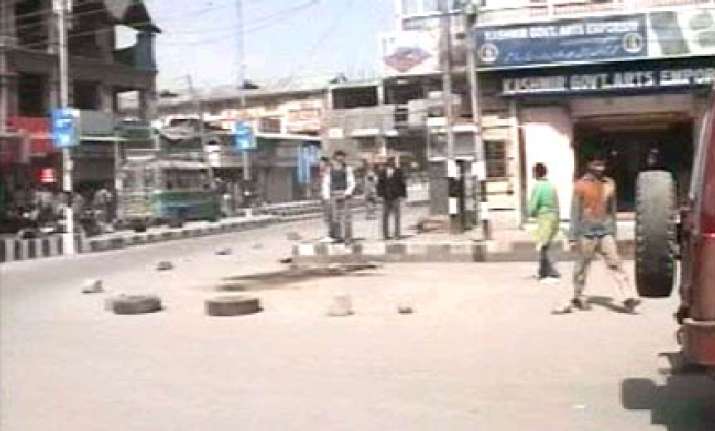 One person was killed and four others were injured, including two CRPF personnel, when ultras struck the heavily-guarded Lal Chowk commercial hub of Srinagar on Tuesday, the fourth attack here within a week.
Three civilians identified as Mehrajuddin Wani of Rainawari locality, Mehrajuddin Shah of Nawa Kadal and Khursheed Ahmad Parray of Khansahib area of Budgam district received gun shot wounds in the attack and were admitted to a hospital where Parray (28) succumbed to his injuries, official sources said.
They said the condition of another civilian and a CRPF jawan, among the two of the injured from the force, was "critical".
The militants fired a volley of shots on CRPF personnel patrolling the Koker Bazar area of Lal Chowk around 1130 hours, injuring two CRPF personnel, force spokesman Prabakar Tripathi said. The ultras then fled from the spot.
Al-Nasireen and Farzandan-e-millat, shadow outfits of Pakistan-based Lashkar-e-Toiba, claimed responsibility for the attack. A caller introducing himself as Sami-ul-Haq, claiming to be the spokesman of the outfits, telephoned PTI saying the two outfits were behind the attack.
Tripathi identified the injured CRPF personnel as havaldar Omkar Ram and constable Basant Kumar of 132 battalion of the paramilitary force. Ram received gun shots in his neck while Kumar was shot in the stomach.
The attack by militants came despite tight security arrangements made by the police in view of intelligence inputs that militants are planning to attack the city.
At least 30,000 police and paramilitary personnel have been patrolling the city and carrying out searches of vehicles and frisking of pedestrians for the past few days.
Police and security forces immediately cordoned off the area to nab the militants involved in the firing which triggered panic in the over-crowded area. Several shopkeepers abandoned their shops and ran for cover.  The incident was the fourth in a series of attacks carried out by militants in the city within a week.
On March 14, militants attacked a CRPF patrol with grenades near a police station in downtown Srinagar, killing a jawan and injuring five others.
Earlier on March 7, militants shot dead a surrendered militant Aijaz Ahmad Dada outside his house at Bemina. The incident was followed by the killing of special police officer Mohammad Arif Bhat by militants near Abu Baker Masjid in Posh Jawahar Nagar locality on March 12.