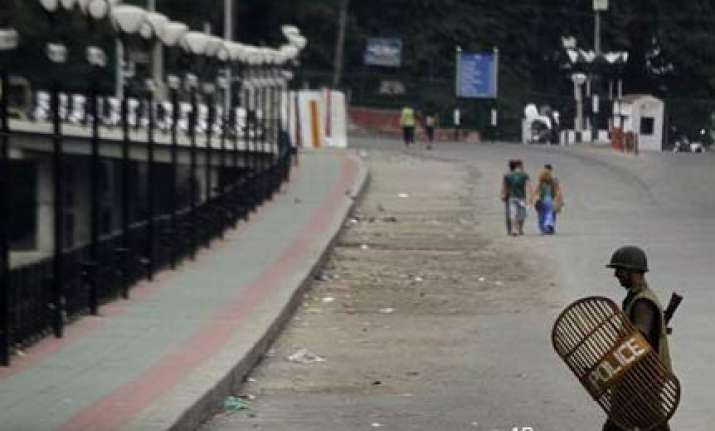 Srinagar: Clashes between stone-pelting protesters and security forces on Thursday left one person dead and 10 others injured in Pulwama in violence-hit Kashmir Valley, where curfew remained in force in all ten districts.  
Agitators assembled at a local degree college in Pulwama, 35 kms from here, and raised slogans in protest against deaths in firing by security forces and alleged human rights violations.  
Police said the protesters were asked to disperse and when they refused despite a baton charge and lobbing of tear gas shells, security forces opened fire at the rampaging mob injuring 11 people.   The injured were rushed to a hospital where Shabir Ahmad Malik, a resident of Newa, died, police said, adding a number of police and CRPF men were injured in heavy stone pelting by the protesters.  
A police spokesman said, "The situation in the Kashmir Valley remained by and large peaceful barring a few incidents of curfew violations and stone pelting.
"Miscreants about 200 in number pelted stones on a CRPF bunker in Wanihama Zakoora. The protesters were chased away," he said.  Police said that security forces also opened fire in Delina in Baramulla, leaving one person injured. In Sopore town, police chased away demonstrators who defied restrictions.   Curfew remained clamped in the Kashmir Valley today, which had witnessed overnight clashes between violent protesters and security forces.   
45-year-old Gulam Nabi Bidyari, who was injured last night when security forces opened fire to quell a stone-throwing mob in Habakaddal in downtown Srinagar, succumbed to his injuries in a hospital this morning, police said.  The toll in the latest wave of violence in the Valley since Friday has risen to 32.   Reaching out to the victims of current violence, Jammu and Kashmir Chief Minister Omar Abdullah visited the injured in a leading hospital here, unmindful of a hostile crowd that surrounded him.  
Omar, whose government has been criticised for not empathising with the injured and the families of those who lost their lives, drove from his office to super speciality Sher-e-Kashmir Institute of Medical Sciences (SKIMS) where he talked to the patients and their attendants.  
The chief minister went into the hospital taking everyone by surprise, officials said, adding he decided to go to the hospital following reports of lack of medicines for patients and food for attendants.
In Delhi, the Cabinet Committee on Security  chaired by Prime Minister Manmohan Singh met on Thursday for the second time in five days to review the latest situation in Kashmir valley which relatively remained peaceful for the second straight day after being rocked by violence. 
According to official sources tonight, the Cabinet Committee on Security(CCS) noted with satisfaction that the fresh wave of violence that broke out last Friday had ebbed to some extent since yesterday. The meeting also dicussed the assessment of the latest situation in the valley made by Jammu and Kashmir DGP Kuldeep Khoda.
The CCS meeting came a day after Union Home Minister P Chidambaram and hardline Hurriyat leader Syed Ali Shah Geelani appealed for calm to help bring the situation back to normal. 
The CCS last met on August one after renewed violence claimed 13 lives in three days. The meeting convened by the prime minister discussed threadbare the steps taken by the  Jammu and Kashmir government and its handling of the situation. The sources said the meeting also renewed its resolve to help the Omar Abdullah government in all possible ways. PTI