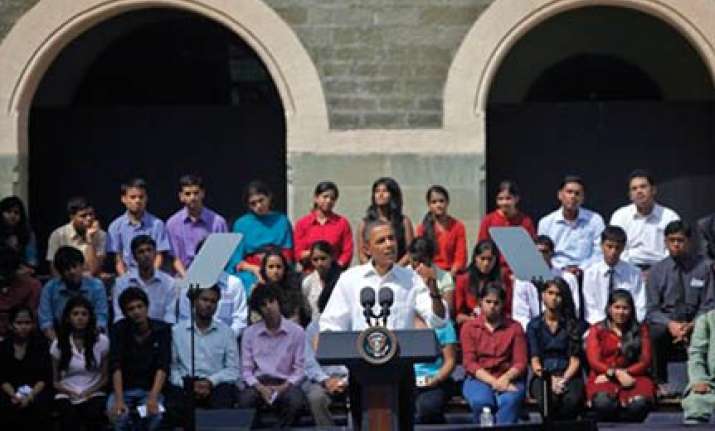 Mumbai, Nov 7 (PTI) Seeking greater access to Indian markets to protect American interest, US President Barack Obama today said that countries trading with it would have to reciprocate and open up.
'There has to be reciprocity in our trading relationship. And if we can have those kind of conversations -- fruitful, constructive conversation about how we produce win-win situations. Then I think we will be fine," he said while interacting with students at St.Xaviers college here on the second day of his India visit.
Referring to the American sentiment as also the Congressional elections where his Democratic party suffered reverses, Obama said American people felt it would be a bad deal if trade was just a one-way street where others get to sell their products in the US.
"If the American people feel that trade is just a one-way street, where everybody is selling to the enormous US market but we can never sell what we make anywhere else, then the people of the US will start thinking that this is a bad deal for us."
 He cautioned that this could end up leading to a more protectionist instinct in both parties not just among Democrats but also Republicans. "So, that we have to guard against it."
Pointing that America's position has changed from being the most dominant economic power, with the "incredible rise of India, China and Brazil," he said though US remains the largest economy and the largest market, there was real competition that was keeping America on its toes.
Elaborating on the purpose of his Asia 10-day visit that would also take him to Indonesia, South Korea and Japan, he said that America would grow and prosper if it was trading with Asia, the fastest growing region of the world.
"We want access to your market -- we think we have good products to sell, you think you guys have good products to sell (to) us. This can be a win-win situation.
"So, I want to make sure that we are here because this will create jobs in the US and can create jobs in India. But that means we have to negotiate this changing relationship," the President said.
America had gone through the toughest two years since the 1930s on account of the profound financial crisis and an economic shock post-2008, he said, adding that the impact was still felt all over the world.