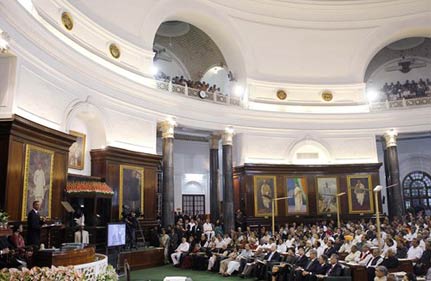 New Delhi, November 8 (PTI) The Barack Obama charm offensive continued today when he said "bahut dhanyawad" in Parliament, as his speech was greeted with applause about once a minute reaching its pitch when the President said the US will insist Pakistan to bring Mumbai attackers to justice.
Obama's backing for India for a permanent seat on the UN Security Council Monday in a dramatic diplomatic gesture and his remarks that he might not be standing in front of the MPs as President of the US had it not been for Mahatma Gandhi and his message that inspired Americans also drew maximum applause in the Central hall of Parliament.
Despite his effusive praise of Indian values and various institutions on the third and final day of his visit, Obama's 35-minute stirring speech  had one sour note when he criticised India for not speaking out over rights abuses in Myanmar, saying democracies with global aspirations could not ignore "gross violations" in other countries.
Speaking with the help of a teleprompter, 49-year-old Obama, who is the second US President to address Parliament after Bill Clinton in 2000, also evoked laughter when he referred to Chandi Chowk in Old Delhi in a heavy American accent while citing the popular Mughal-era area by way of an example where children deserved a better future.
But the maximum applause was reserved when he declared that terror safe havens in Pakistan are unacceptable and that the US will insist on Pakistani leadership to bring the Mumbai attackers to justice. Ten Pakistani terrorists were behind the carnage in November 2008 in which 166 persons were killed.