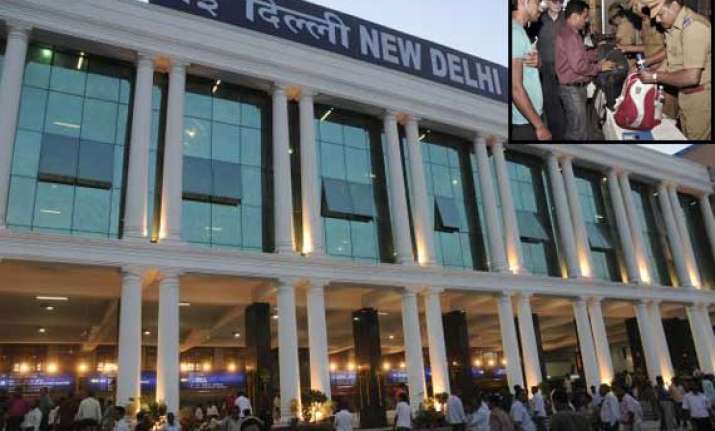 New Delhi, July 23: New Delhi railway station is trying to go the airport way. Northern Railway has asked passengers to report to the station at least an hour before the train's departure.

"The home ministry has asked us to ensure that every passenger is frisked and every luggage is checked before it enters the main platforms. With close coordination with GRP and RPF, we have installed three scanners on each side of the station — three at Paharganj and another three on the Ajmeri Gate side. Two others will be on standby on each side. However, during evening rush hours, it is important that passengers report early to ensure hassle-free entries," said S K Sharma, CPRO, Northern Railway.

Sources said that with an estimated 3 lakh passengers boarding trains from the station daily, the infrastructure was well below the requirement. IGI airport, which handles around 80,000 domestic and international passengers every day, has 50 x-ray scanners. For three lakh passengers, the New Delhi station has six functional scanners — each catering to over 50,000 passengers a day.

The railways, however, claim it is only a beginning. "This is the beginning and it will get many more scanners. We have shifted the parcel-handling section to the Paharganj side and repaired the scanner machine," said an officer. Sources said the maximum rush was witnessed between 2pm and 5pm, with almost all east-bound trains leaving the station during this period. "I have been waiting for the past 25 minutes in this heat. I am still not sure when I will get in," said Abhishek Banerjee, who was waiting to be frisked at Ajmeri Gate. He had to board Sealdah Rajdhani Express and had two suitcases.
 
Northern Railway is trying to tighten its noose in other areas as well. The commercial department of the Delhi division has launched a special checking drive along with RPF to curb the practice of carrying unbooked luggage. During a check on July 18, 2011, a consignment of goods worth Rs 2 lakh was caught from Amritsar Super Fast Express. On July 20, 121 packets weighing about 21.73 quintals being carried by Delhi-Saharanpur Passenger were confiscated at the New Delhi station and 27 people were arrested under Section 145 © of the Railway Act.
 
Twenty-two passengers were arrested at Shakurbasti station from Sirsa-Tilak Bridge Haryana Express for travelling with improper tickets. Railway ticket checking staff also unmasked a fake TTE, identified as one Pradeep Kumar, on Thursday while he was checking tickets at the New Delhi station. There have been complaints that fake ticket-checkers are collecting tickets on the pretext of getting these checked and then cancelling them to claim fine.