Follow us on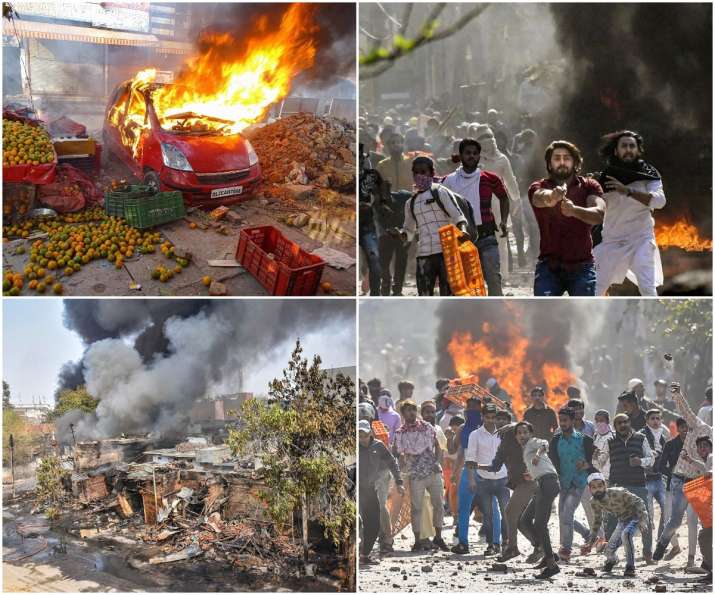 Delhi is witnessing one of the most worrying faces of violence in recent times. Frenzied groups, protesting against the new citizenship law (CAA), continue to unleash violence in north-east Delhi as they vandalized shops, pelted stones at police and even threw acid at paramilitary forces. Photos of widespread violence from Delhi have shocked one and all. Smoke billowed in the air and mobs roamed unchecked through the streets, burning shops, pelting stones and threatening locals, as fresh violence tore through northeast Delhi, killing six more people on Tuesday and taking the toll in the communal clashes over the amended citizenship law to 13.
Streets were seen littered with stones, bricks and burnt tyres, mute testimony to the spiralling violence and bloodshed in the northeast Delhi. 
In scenes never witnessed in Delhi in a number of years, the frenzied groups, armed with sticks, stones and rods, were seen thrashing people on the road in Maujpur. They even vented their ire on e-rickshaws
Violence in northeast Delhi.

Delhi violence over CAA: As tension smouldered in the national capital's northeast and the sunset over another restive day, violence cut a swathe through several localities, including Chand Bagh and Bhajanpura, with stones and other missiles hurled and shops set ablaze.

Rioters damaged two fire tenders in Gokulpuri and crowds raising incendiary slogans set on fire fruit carts, rickshaws and anything that came in their way in the epicentre of the trouble Maujpur and other places.

Delhi Police fired teargas shells to disperse the rioters -- armed with stones, rods and even swords and many wearing helmets to protect themselves -- and was assisted by paramilitary personnel.

Delhi violence: Streets were littered with mangled remains of vehicles, bricks and burnt tyres, mute testimony to the violence and bloodshed that took on a communal taint on Monday and injured about 180 people, including 48 police personnel.

Delhi Violence Latest News: According to GTB Hospital Medical Superintendent Sunil Kumar, six people were declared brought dead on Tuesday, taking the death toll in 11. At least 35 injured people were also taken to the hospital today.

R Akshay, a journalist with JK 24X7 News, received a bullet injury and was in a serious condition in hospital, and two reporters from NDTV were beaten and punched by rioters.

"There is hardly any police presence in the area. Rioters are running around threatening people, vandalising shops. Families need to be evacuated. We are unsafe in our own homes," PTI quoted a resident of Maujpur.

A few residents in Yamuna Vihar and Jaffrabad told PTI they had seen rioters with swords in their hands.

The 11 killed include Delhi Police head constable Ratan Lal. While Lal died of gunshot wounds, it is still not yet clear what killed the others or who they all were.