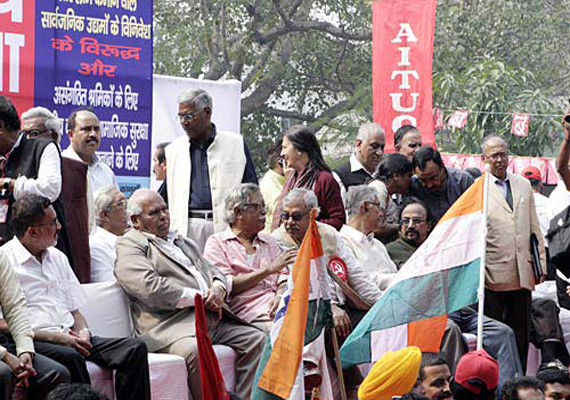 Kolkata, Feb 28 : Normal life today remained largely unaffected here due to the general strike called to protest "anti-labour" policies of the government, with Chief Minister Mamata Banerjee warning state government employees that absence from duty will be treated as a break in service. 

State government-run buses, taxis, trams, trains and Metro rail services were normal though private buses were plying in fewer number.

Flight operations from NSC Bose international airport here were normal. All morning flights of Air-India and other private airlines left Kolkata airport as schedule, sources said.

"Everything has been normal so far. Things are going on well. Tight security arrangements are in place with 400 police pickets set up in various parts of the city," City police commissioner R K Pachnanda told PTI. 

"Twenty-five flying squads are patrolling the city to prevent any disruption in law and order. Senior police officers, including the deputy commissioners of police, are overseeing the law and order situation," Pachnanda said.

Director General of Police, Naparajit Mukherjee told PTI that situation has been normal in the districts. Some arrests have been made in certain places including Hasnabad and Madhyamgram for obstructing traffic, he said. 

Railway sources said the train services in Howrah, Asansol and Malda division of Eastern Railway are normal. 
Major unions have called a countrywide strike to protest the "anti-labour" policies of the government, rising prices and disinvestment of PSUs.

Bandh supporters blocked railway tracks in some places in Sealdah division.

The spokesperson for South Eastern Railway, Soumitra Majumder, said, "Train services have been normal. All trains have reached Howrah station and morning trains have left from Howrah to respective destinations as per schedule."

State Transport minister Madan Mitra, who stayed overnight at the control room at Netaji Indoor Stadium to ensure normal flow of traffic, said that he has received information that state-run buses in north Bengal were plying as usual.

"People are joining work ignoring the bandh call. They have responded to the call given by Chief Minister Mamata Banerjee to keep the state moving and not to join any bandh which cripple economy," Mitra said.

Employees at Writers' Buildings (state secretariat) spent the night at respective departments to join work today.