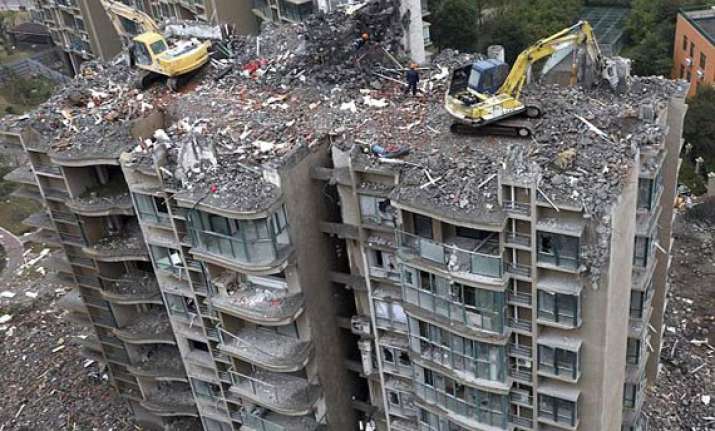 New Delhi, Dec 9 : Affluent owners who have bought highrise penthouses and apartments in Noida should take this news with a pinch of salt.

The Daily Mail, London has reported how an 18-story residential tower in Taizhou, Zheijiang Province, eastern China  began leaning after one of the foundation pillar cracked on reclaimed land.

Riverside Yamuna land in Noida are mostly reclaimed and are believed to be 'soft' on which highrises are being built day in and day out.

The residential tower  in China is now being dismantled by excavators hauled to the top floor  by cranes.

The building was completed in January and was hailed as a luxury development with a 'perfect' ocean view. But months later it was found to be leaning.

One apartment owner, who gave his surname as Zhan, moved out just 17 hours after moving in.

'I bought the unit on the 16th floor because of the beautiful ocean view. It's such a pity I can't live in it,' Mr Zhan told China Daily.

'I heard loud banging sounds like an explosion. It was really scary. And then we were told that a pillar in the foundation had cracked.'

Experts have suggested the ground beneath the highrise sank because the reclaimed land it was built on is unable to support such large buildings.
Hu Zhizhong, an architectural researcher at Taizhou University, said reclaimed land commonly 'settles unevenly', but the sinking in this building was so severe that it could be that the land is simply unsuitable.

Apartments in the building, which is in a luxury community, were selling for more than £500 a square metre in 2009 - before construction was even finished. The homes were handed over to buyers in January and the building was found to be sinking shortly after.

In September, after the sinking seemed to speed up, the developer starting to reinforce the building. But in early November, one of the construction's main supporting pillars broke and the building and some nearby had to be evacuated.

China has had seen scandals surrounding poorly designed and constructed buildings in the past.

In 2008 an earthquake shook Sichuan, in the west of the country, flattening hundreds of buildings, especially schools, which were said to be poorly designed and built.