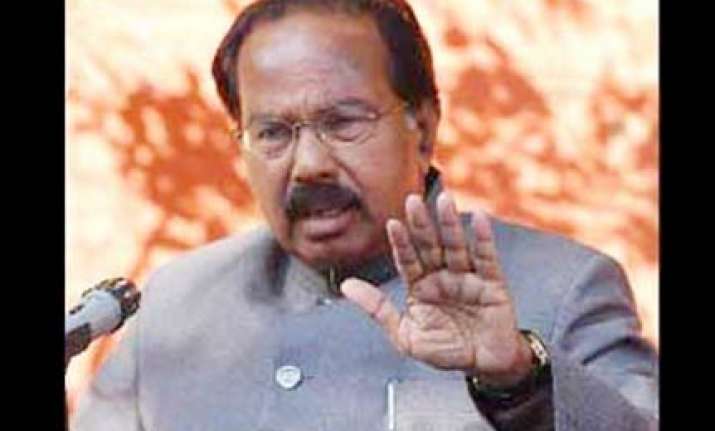 Government on Wednesday  ruled out providing 'quota within quota' for OBCs and Muslims in the Women's Reservation Bill and said there was no deliberate delay in bringing the measure to Lok Sabha on perceived threat to its stability.  
Unfazed by threats of withdrawl of support by allies like SP and RJD, the Government is absolutely confident and has no worries about numbers in Lok Sabha or about passage of the money bills in the lower house. 
"There is no provision for sub quota for OBCs or minorities under the present scheme of things in Constitution and also because there is no data available even today on communities and castes under the census," Law Minister M Veerappa Moily told PTI in an interview.
"Even if we want to have a national census on communities and castes and if we want to concede to the demand of leaders like Mulayam Singh Yadav and Lalu Prasad, we have to wait for another 15 years for the 2021 census to be completed. We cannot wait that long for bringing this legislation," he said.
Moily said for this to happen the national policy followed since 1931 has to be changed for changing the census procedure.  "Any bill that will have quotas within quota will be struck down in limine by courts as unconstitutional," he said.  
Moily recalled that it was the late Rajiv Gandhi whose Government brought in changes to reduce the voting age from 21 to 18 and also first thought of giving constitutional status to panchayats.  He said the 33 per cent reservation for women in Parliament and state assemblies will be the "greatest gender justice" that Government would be brining in as part of its agenda of inclusive politics. 
Rejecting criticism against brining in more women into Parliament through reservation, the Law Minister said such a change would also help in heralding gender justice in various fields including laws which are gender biased. 
He said the Women's Bill became a reality because of great determination shown by Prime Minister Manmohan Singh and the political vision and will on the part of Congress President Sonia Gandhi who was realising Rajiv Gandhi's dream. Asked if Congress was taking all credit for the Bill without sharing it with parties like BJP and the Left, he said it is a tribute to parliamentary democracy. PTI