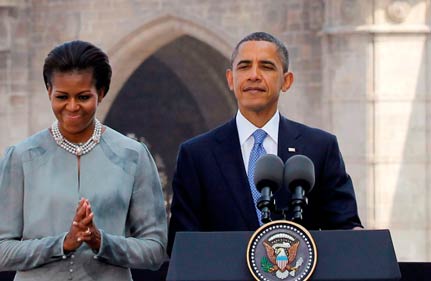 Mumbai, Nov 6 :  Standing not far from where 10 Pakistani terrorists sneaked through the sea route nearly two years back to attack India's financial capital, President Barack Obama paid homage to the victims and demanded that those behind the carnage be punished.
But there was no mention of Pakistan in Obama's speech, even as the masterminds of the attacks were moving around openly in the neighbouring country.
Flanked by his wife Michelle, Obama made a point by beginning his first public engagement of a three-day visit to India at the Taj Hotel where 32 of the 166 died in attacks at seven places in a 60-hour siege that began on the night of November 26, 2008.
A sombre Obama let it be known that he had purposely chosen the hotel for his stay as well as his first official engagement to "simply absolutely" send a message.
In a six-minute speech, he paid tributes to the people of Mumbai and India, hailing their resolve and resilience which stood "in stark contrast to the savagary of the terrorists who came to kill innocent civilians that day."
Commending the co-existence of various faiths in India, the US President said that terrorists had "wanted to pit believers of different faiths against one another" because diversity was Mumbai's and India's strength.
After his speech, Obama and his wife turned towards the Arabian Sea from where the terrorists had come in boats to launch the attacks. "There is the spirit of Gateway behind us," he told Michelle pointing to the iconic Gateway of India from the terrace of the hotel where the memorial service was held.
He wrote in the visitors' book: "The United States stands in solidarity with all of Mumbai and India in working to eradicate the scourge of terrorism. We offer our lasting friendship to the Indian people."
In his address, he said, "We will never forget the awful images of the 26/11 attacks, the flames from Taj Hotel that lit up the night sky on those four days of November, 2008." PTI