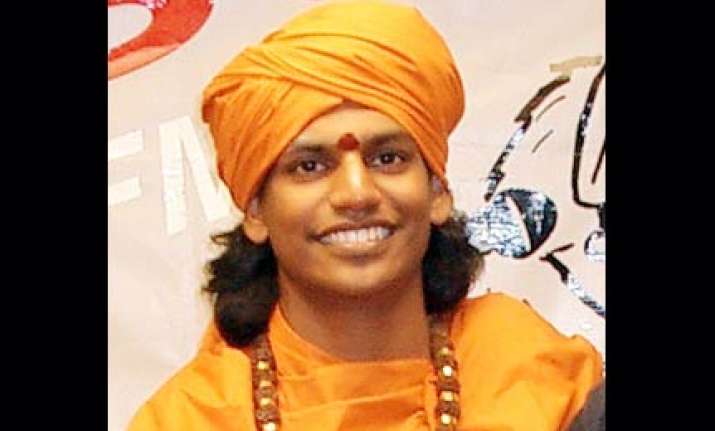 Bangalore:  Self-styled godman Nityananda Swami has courted fresh trouble for allegedly using kerosene meant for poor families during his meditation for 'penance' and may face a seven-year jail term if convicted. 
Nityananda, out on bail on June 12 after remaining in jail for 53 days on rape and other criminal charges, resorted to the 'pancha tapasya' by meditating in his Bidadi ashram in neighbouring Ramanagara district.
While meditating, Nityananda sat and prayed with a fire set around him.   Officials of Food and Civil Supplies department today seized 180 litres of blue kerosene stored at the ashram.
"This is an offence under the Essential Commodities Act," Commissioner H R Srinivasa told PTI here. 
Blue kerosene available under public distribution system is only meant for BPL ration card holders and above poverty line ones without LPG connection, he said.
 "Cases have now been booked against him at Bidadi police station under section six and seven of the Essential Commodities Act," Srinivasa said.
 If convicted, Nityananda faces a maximum punishment of seven years of rigorous imprisonment with penalty. 
Meanwhile, Nityananda's ashram sought to distance itself from the episode of usage of blue kerosene. 
"There have been some remarks in media about the use of kerosene oil during the Pancha Tapas Yoga and unfortunately, some people are using this as a reason to harass the ashramites and stop the ashram's spiritual activities," it said in a statement.
 A source in the Nityananda's ashram Dhyanapeetham, however, said they have decided to use camphor during the meditation from tomorrow and not kerosene.
 The seizure came in the wake of photographs showing disciples pouring blue kerosene for a ring of fire within which Nityananda sat in meditation. 
Nityananda was arrested in Himachal Pradesh on April 21 after eluding police who were on the lookout following a private TV channel in Chennai telecasting a purported video footage of the godman in a compromising position with a Tamil actress in March. PTI