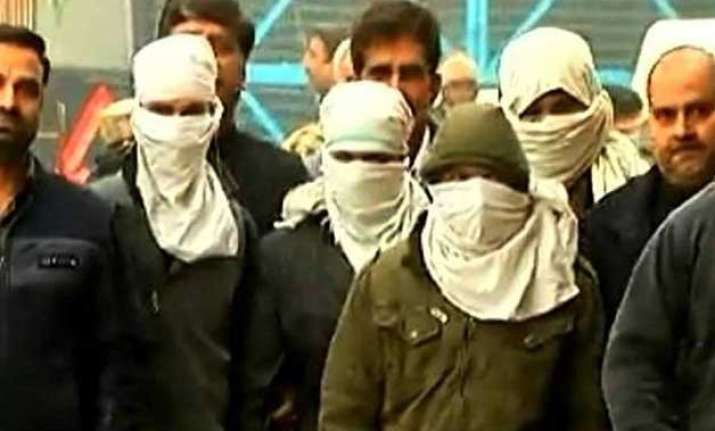 New Delhi: Nine more suspected members of ISIS have been arrested by the National Investigation Agency (NIA) in cooperation with state police across India.
A NIA official today said that the raids, which have continued since Thursday evening, were conducted at 12 locations in six cities and in the latest development 9 more suspected ISIS militants were arrested, taking the total number of those arrested to 14.
"On the basis of information revealed in the interrogation of five accused people, another nine accused people have been arrested from various locations in different cities," the official said.
The arrested men are Sayed Mujahid, 33, resident of Karnataka, Mohammad Aleem, 20, Lucknow, Mohammed Obedullah Khan, 33, and Abu Anas, 24, Hyderabad, Asif Ali alias Arman Saani, 21, Suhail Ahmed, 23, Muhammed Abdul Ahad, 46, Bengaluru, Mohammad Hussain Khan, 36, Mumbai, and Imran Khan Pathan from Aurangabad in Maharashtra.
The NIA said the arrested people will be produced before the concerned courts for obtaining transit remand and further interrogation and investigation will continue, said the official.
All the raids at 12 locations in six cities were conducted on tip-offs that the ISIS sympathisers were planning attacks in several cities on Republic Day. The raids were conducted in Bengaluru, Tumkur in Karnataka and Mangalore in Karnataka, Hyderabad, Mumbai and Lucknow in Uttar Pradesh.
Incriminating documents, mobiles, laotops and unaccounted cash and material used in making bombs were seized during the raids. Huge quantities of arms and ammunition were seized from the rented house of two of the suspects in Bengaluru, an official said yesterday.
On Friday, NIA arrested five suspected IS members and nine others were detained. Mudabbir Mushtaq Shaikh, Mohammad Nafees Khan, Mohammad Shareef Mounuddin Khan, Najmul Huda and Mohammad Afzal, arrested on Friday are accused of encouraging the youth to join the IS.
Home Ministry Joint Secretary (Internal Security) had said all suspects are "radicalised youths" and more information would come out once ongoing investigations are over.