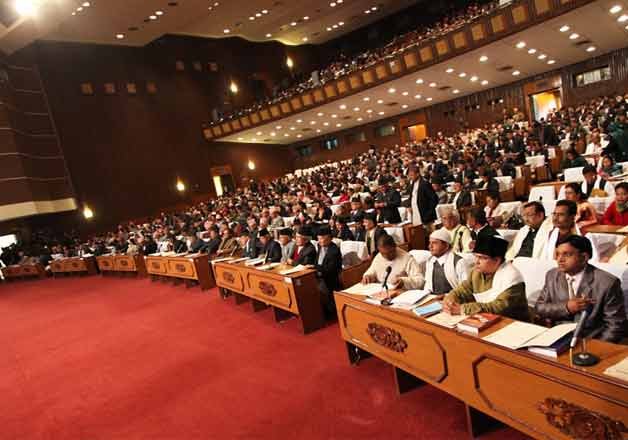 New Delhi: Nepal today said it is reeling under a major humanitarian crisis due to the four-month-long blockade along the border with India, the economic cost of which is much more than that of the impact of the devastating quake, and assured that grievances of the agitating Madhesis are being addressed on a fast-track mode.  
Nepal Ambassador Deep Kumar Upadhyay said it was not practically possible to bring oil, gas and other essential commodities through China as was explored earlier due to difficult connectivity and high cost and India must ensure supplies to the land-locked country.
"Enough is enough... It is very easy to set fire but difficult to douse it. We will do everything possible to fulfil aspirations of all sections of the population," the envoy said during a media interaction while expressing his "deep pain" for people of Nepal.
On demands of Indian-origin Madhesis from Terai region, he said, "We cannot change mathematics. Nobody likes to play a losing game."
He said Nepal has become a den of smugglers and middlemen in the wake of the blockade. "Fulfilling aspirations of all sections of people is responsibility of Nepal's Parliament and Government. We will do it. For certain amendments, we will need two-thirds majority."
He further said "we may have made some wrong decision. But we will make every effort to correct it." Sounding critical of India, he said the Madhesis have only blocked the Birgunj-Raxaul trading point along Indo-Nepal border and supplies can be sent through six other points.  
"There is a major humanitarian crisis in Nepal. The economic cost of the blockade is more than the cost we had to incur due to the massive quake.
"We are in a difficult phase. Children are not being able to go to school as transportation has been severely hit due to scarcity of diesel and petrol. Hospitals are running out of medicines. Housewives are struggling to make food as there is huge shortage of LPG cylinders," said the envoy.  
On Nepalese government's plan to bring oil from China, he said, "China has been telling us it will be easier and cheaper for Nepal to get supply of oil and other products. They have told us to sort out issues with India."
He said a tunnel or pipeline can be laid from China to Nepal through Tibet to bring oil from China but that will be a long term option from which India will also benefit.  
The envoy said democracy has a self-correcting mechanism and issues raised by the agitators are being addressed "on a fast track mode".
The Madhesi community is opposed to splitting the country into seven provinces in the new Constitution and has been demanding adequate protection to their rights.
The Himalayan nation has been facing acute shortage of fuel, medicine and other essential supplies due to the blockade.
Three major demands of the Madhesi community include re-demarcation of the boundary, inclusion of proportionate representation and allocation of Parliament seats on the basis of population.