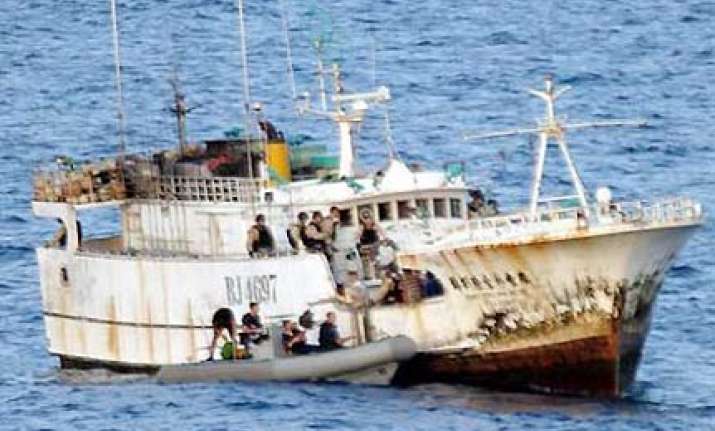 Even as reports came in that nearly a hundred men in six to eight boats from Gujarat had been captured by Somali pirates, the Indian Navy fears that the dhows may be used by the pirates as 'mother vessels' to launch attacks on larger merchant ships, reports Indian Express.
On Tuesday, Kutch Vahanvati Association (KVA) president Kasam Ali Bholim said the seven dhows seized by pirates off Somalia's coast carry nearly 100 Indian sailors. "Over 80-100 crew members of these vessels have been captured. We have already approached the port authorities and the Director General Shipping in this regard," he said.
Even though the Navy has not yet been called in by the government to take action, senior officers say it is possible that the missing vessels may have been seized by pirates who are holding Indian sailors hostage. "We are trying to confirm reports that 120 Indians on board eight vessels have been captured by pirates. So far, no official confirmation has reached us," an officer said.
However, given the past experience with Somali pirates — the Indian Navy has had a constant deployment in the Gulf of Aden — senior officers fear that any attempt to use force could lead to casualties.
It may be recalled that in November 2008, the Navy sunk a pirate 'mother vessel' off the Somali coast during an anti-piracy operation. It later transpired that the sunk vessel was a Thai fishing boat that had been taken hostage by pirates. Several Thai fishermen were believed to have been killed in the operation.
While the Navy is monitoring the situation, reports suggest that the missing vessels may be heading towards Seychelles, an area that is emerging as a hotbed of piracy as nations have intensified patrolling along the Somali coast. At present, the Navy has warships deployed in the region that can be pressed into service if need be.
While three vessels from Saurashtra-Kutch are believed to be hijacked by Somali pirates, three others have gone missing. Contact with Nal Narayan, Sea Queen and Vishva Kalyan was lost soon after the vessels entered the Gulf of Aden. However, Kishan Jot — the fourth vessel which was part of the group— sent a radio message saying it had a narrow escape.