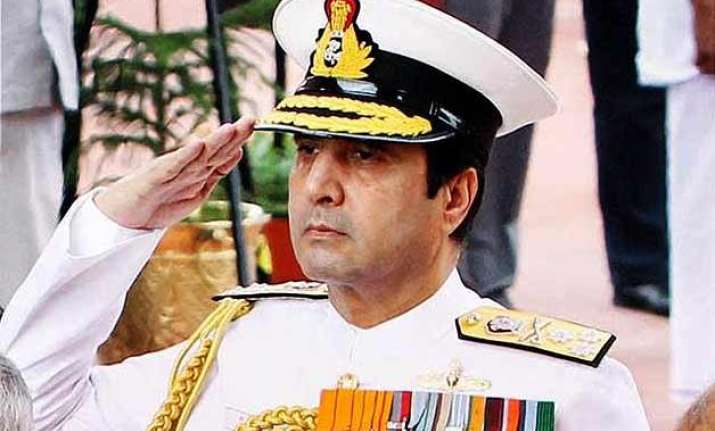 Mumbai:  Navy Chief Admiral R K Dhowan today said India was 'monitoring' the military tie-up between China and Pakistan, including the pact expected to be signed for strengthening the naval power of the western neighbour during the visit of Chinese President Xi Jinping to Islamabad.  
"We continuously monitor the threat perception, whether it is Pakistan or China," he told reporters, replying to a query on the growing China-Pakistan military co-operation.  
Admiral Dhowan's remarks came in the wake of the Chinese President's visit to Pakistan, beginning today, during which the two countries are expected to sign a deal for buying of eight diesel-electric submarines by Islamabad, which currently has a fleet of five French submarines.
Admiral Dhowan, here for launch of stealth destroyer 'Visakhapatnam' at Mazagoan Docks Ltd (MDL), said "the Navy has emerged as a multi-dimensional combat force and we are ready to take on any challenge in the Indian Ocean region.  
"When the P15-B destroyers ('Visakhapatnam' is first in series and likely to be inducted in 2018) are commissioned, we will have a potent platform," he said.  Noting that the Navy is committed to Prime Minister Narendra Modi's vision of "Make in India", he said the destroyer launched today is a "product of our own designs and made of Indian steel".
The Indian Navy has been progressively moving towards indigenisation of design and construction after the process started half a century back, he said.
"Navy's quest for indigenisation started over 50 years ago. In 1964, Indian Naval Design Directorate was set up. We have been progressively moving to indigenous design and construction. We have 48 ships and submarines under construction in Indian shipyards."
It is Navy's endeavour to work with Government-run DRDO and private industry to ensure that future ships can be made 100 per cent in India, the Admiral said.
The first indigenous aircraft carrier,'INS Vikrant', being constructed at Kochi Shipyard, is being built with Indian
steel, he said.
"Our endeavour is that more and more warships should be made with steel made in India," the Navy chief said.  Asked about the difference in the pace of work under the BJP-led government and the previous Congress-headed administration, he said, "Navy's induction of assets is in accordance with its capability plan. We have a plan till 2027."
On the 'terror boat' incident involving Coast Guard, Admiral Dhowan said, "The Coast Guard carried out a patrol..  found some suspicious activity. While they were investigating, there was some explosion."
On helicopter acquisitions for the Navy, he said, "The Government has given clear directions. We will follow the path of Make In India."
Asked about the Dornier aircraft crash last month off Goa coast, the Navy chief said "there was some issue and the Board of Inquiry (into the incident) is not yet finished."