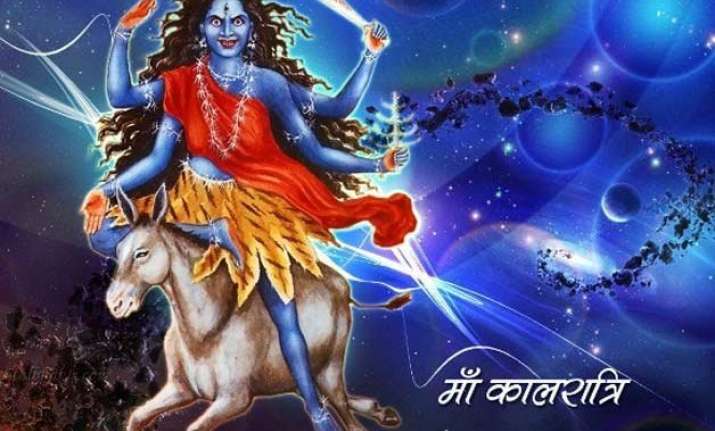 On 7th day of Navratri, Maa Kaalratri is worshipped. She is the seventh incarnation of Maa Durga. She is also known as 'Shubhankari'.
She has a fearsome appearance. She looks like a 'Kaal-ratri' means a dark moonless night. Her name is derived from 'Kaal' which means time and 'Ratri' which stands for night. She is also known as 'Kaali Maa'.
Her 'sawari' is a gadarbh – a donkey. She has three eyes which shine brightly. Her posture is upright and dreadful with dark countenance and four hands.
Demonic entities, ghosts, evil spirits flee away by chanting her name. This is also the reason why she appears so dreadful. Her facade scares evil hence representing that Durga does not only mean benevolence and love but also the end of malevolence.
She holds a cleaver and a torch in two of her hands while with other two she appears as blessing and protecting her devotees. She has a red tongue and flames appear from her nostrils when she breathes.
She was the one who killed Raktabeej, one of the most ferocious devils who's every drop of blood was capable of bearing demons similar to him. Mata killed her in kaalratri avatar. She drank the blood which fell from his body while she killed her and hence she became famous as 'Maa Kaali'.
Maa Kaalratri is worshipped to awaken powers and attain siddhis. One should not be scared of her appearance.
She should be worshipped with this mantra-
या देवी सर्वभू‍तेषु माँ कालरात्रि रूपेण संस्थिता।
नमस्तस्यै नमस्तस्यै नमस्तस्यै नमो नम:।।
She assures freedom from fear and sufferings to her devotees. With her grace, devotees get power, position and renowned status. One should pray this incarnation of Maa Durga, if he/she is under influence of demons or evil spirits. One should wear green color on this day. One should recite the 'raktabeej daman' chapter of 'saptashati path' on this day and appease mata with sincere devotion and prayers.