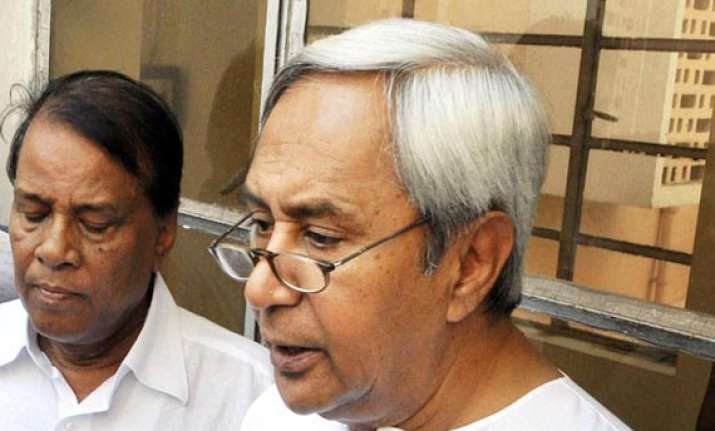 New Delhi, June 5 :  Noting that heavy deployment of security forces in neighbouring Chhattisgarh was driving Maoists to his state, Odisha Chief Minister Naveen Patnaik today demanded two additional CRPF battalions and a military chopper to "effectively" tackle the extremists.  
Referring to the proposed National Counter Terrorism Centre (NCTC), he said no direct or indirect interference in the state's autonomy will be "tolerated" and federal rights should be "respected and protected".
Participating in a conference of chief ministers on internal security, he said heavy deployment of security forces across the border in Chhatisgarh is pushing Maoists into the state and two additional battalions should be provided to match the deployment in Nuapada, Baragarh and Balangir districts.
The Chief Minister also sought a dedicated M-17 helicopter to "add more precision to the ongoing anti-Maoist activities" in the state especially in southern and Western Odisha.
Besides, he demanded a one time assistance from the Centre for strengthening the security infrastructure in the western districts in view of the present level of Maoist build up in these places.
"I would like to reiterate that Left Wing Extremism poses a very serious and damaging threat to the national security.  The menace has to be crushed firmly to uphold the dignity of democracy and rule of law. My government is seriously working to deal with the problem and I hope that a combined effort will help in this endeavour," he said.
He asked the Centre for early reimbursement under the security related expenditure scheme under which Rs 135.41 crore has been spent between 2005-06 to 2011-12 in 19 earmarked districts.
He also sought the Centre's nod for fortification of police stations and outpost in the troubled areas along with the creation of a few new police stations as per requirement.  While the Centre has sanctioned 70 new fortified police stations in the affected areas, the state government has created 76 new stations in 2009 covering all the extremist areas.
Patnaik, who had earlier opposed the proposed NCTC, said though the Central government made "some changes suggested by us in the proposed NCTC, all the issues have still not been addressed.
"I would like to reiterate that the federal rights of the states should be respected and protected at all cost. No direct or indirect interference in the autonomy of the states shall be tolerated".
Patnaik also once again raised the issue of introducing a mineral resource rent tax which should be charged to the owners of mining resources at 50 per cent of the surplus rent.  He said while a handful of the mining companies are making super normal profits, the tribal communities are not befitting out of them at all.
"The additional and very sizable revenue will enable the state to invest in infrastructure and jobs which would directly benefit the tribal community in the mining affected areas," he said.