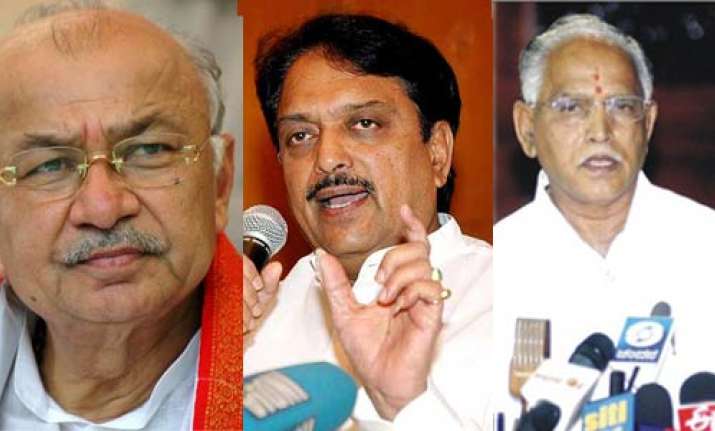 Mumbai, Apr 24 : Union Ministers Vilasrao Deshmukh and Sushil Kumar Shinde expressed grief over the death of spiritual leader Sri Sathya Sai Baba, who passed away this morning.

"It is a sad day for the entire world. It is hard to describe his deeds in words," Deshmukh said in a statement."We have lost a great pious personality. His contribution to social causes was immeasurable," the Union Rural Development Minister added.

Union Power Minister Sushil Kumar Shinde said Sai Baba was a great source of strength for his devotees.

"His passing away is a tremendous loss for everyone.  Organisations set up by him did a lot for providing free education, hospitals and other charitable works in India and abroad," he added.

Former Maharashtra Chief Minister Ashok Chavan, who has been an ardent devotee of the spiritual leader since the last 45-years, said Sathya Sai Baba's death was a "moment of grief" for him.

"He would continue to guide us and will always be a source of inspiration. His teachings will always be remembered. Baba worked selflessly for the mankind," he added.

Chavan, who had hosted Sai Baba during his tenure as Chief Minister at his official residence 'Varsha', said he always received advice and guidance from the latter, which helped him to carry on, whenever he faced ups and downs.

Chavan said he had last met the spiritual guru on November 23 last year. "He appeared weak. He held my hand," he added.

Condoling Sai Baba's death, State Public Works Development Minister Chhagan Bhujbal said the spiritual leader will always remain in everyone's heart through his preachings.

Karnataka Chief Minister B S Yeddyurappa today expressed grief over the death of Sathya Sai Baba.Yeddyurappa,  an ardent devotee of Sai Baba, described the spiritual leader as a "noble soul" who sacrificed his entire life for the good of human beings.
AIADMK chief Jayalalithaa today expressed grief over the death of Sai Baba.
In his condolence message, External Affairs Minister S M Krishna said he had a "unique privilege" of knowing the spiritual leader for a number of years.

"The most impressive part of his personality was the love and compassion that he always brought into his endeavours," he said.

Expressing her deep sadness, Lok Sabha Speaker Meira Kumar said, "I am pained to know about the sad demise of Sri Sathya Sai Baba."

"Baba's inspirational presence and his eternal message of love and compassion have enlightened the people across the world," she said in her message.

"While he worked relentlessly to achieve a spirituality-balanced and meaningful life for all, his prophetic words on various dimensions of value-oriented living have allowed his countless devotees to appreciate the true worth of universal well being.

"I am sure, his teachings of peace and harmony will continue to guide us in our efforts to establish a just society," she added.
Andhra Pradesh Chief Minister N Kiran Kumar Reddy expressed grief over the demise of Sai Baba and recalled the "unparallelled services rendered by him to the humanity in myriad ways which are beyond description."

"Sri Sai Baba is a symbol of love, affection and passion. Sri Sathya Sai Baba has given his great self to service of humanity in the form of various services not only to our State, our country but also to the entire world," Reddy said in his condolence message.

Delhi Chief Minister Sheila Dikshit condoled the death of Sai Baba describing him as a "great philanthropist" who provided solace and guidance to millions of people.

"With his demise, we have lost a noble philanthropist.  His teachings and ideals would continue to show the righteous path to people from all walks of life," she said in her message.

Telugu Desam Party President Chandrababu Naidu said, "The demise of Sathya Sai Baba is a great loss to humanity. Though he may not be there among us physically his spiritual message will continue. He will guide us forever."

Gujarat Chief Minister Narendra Modi condoled Sai Baba's death saying "He (Sai Baba) was a great man who dedicated his life to provide water and education to the rural areas and medical services to the humanity."

"In the world of spiritual leaders, he was unique- who without wondering around the world, attracted it towards Indian culture," Modi wrote on micro-blogging site twitter.

Personally, I have been blessed with his love and grace. I pay my tributes to sacred Sathya Sai Baba on his nirvana, he added.

In his condolence message, Punjab Governor Shivraj Patil said, "Sai Baba's message of love and service would continue to inspire the present and the generations to come."

Patil said Sai Baba's words and teachings have lit the lamp of love in one and all.
Maharashtra Governor K Sankaranarayanan has condoled death of godman Satya Sai Baba describing him as a "fountainhead of goodness" and "love for humanity."

"In his demise, the world has lost a highly popular community leader whose mere presence was a source of inspiration to his followers. I pay my respects to the loving memory of Satya Sai Baba," Sankaranarayanan said.

The Governor said in a condolence message that "Satya Sai Baba of Puttarparthi was a fountainhead of goodness and love for humanity. He touched the life of millions of people, rich and the poor, across the world with his simple teachings and services to humanity."

The number of educational institutions, hospitals and community initiatives supported or established by him are a standing testimony of the immense good work he did in his life time, he said.
Tamil Nadu Chief Minister and DMK chief M Karunanidhi today expressed grief over the demise of Sathya Sai Baba and said the spiritual leader had showered love on him though he is an atheist.

"Though I am an atheist, Sai Baba showered love on me," Karunanidhi said.

In a release, the chief minister recalled that Sai Baba had voluntarily visited him at his residence in 2007 and contributed over Rs 200 crore for water supply to Chennai when many state governments were not ready to release water to the city.

Karunanidhi recalled Sai Baba's comments during the meeting that "service to man is service to God".

The chief minister said there was nothing wrong in an atheist and a spiritualist coming together for people's welfare.

Expressing grief over Sai Baba's death, Puducherry Chief Minister V Vaithilingam said the spiritual leader had dedicated his life for the betterment of humanity.

All the spiritual movements he had launched were to relieve the suffering sections of society of their agony and pain, he said in his condolence message.

Vaithilingam recalled how Sai Baba had voluntarily come forward to launch a drinking water project to mitigate the sufferings of the people in Chennai.

"Welfare of human beings was the main concern of Sathya Sai Baba who had transcended all barriers to dedicate himself for the good of humanity," the Chief Minister said in his message, copy of which was released to the media.
Bihar Chief Minister Nitish Kumar expressed profound grief at the death of Sri Sathya Sai Baba today.

In his condolence message, Kumar said the godman's death was an irrepairable loss to the society and his sermons will continue to guide and inspire the people.

Sri Sai Baba was an inspirational and was worshipped by his followers worldwide.

He had also contributed immensely in the fields of education and health, served humanity and was kind and compassionate towards people, Kumar said. PTI