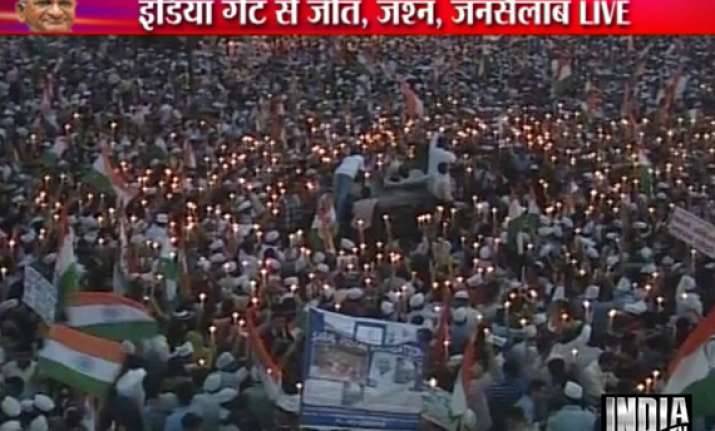 New Delhi, Aug 28: Thousands gathered at India Gate this evening to celebrate victory of Anna Hazare's crusade against anti-corruption took the nation by storm. The Gandhian on Sunday broke his 12-day fast declaring that electoral reforms will be on top of his agenda.

After days of protest, festivities which began last night after Parliament passed a resolution agreeing in-principle to Hazare's three demands on Lokpal issue, reached a crescendo when the Gandhian accepted a glass of coconut water from a Dalit and a Muslim girl - Simran and Ikrah - at 10.20am, breaking his 288 hours of fast that began on August 16.




Victory flags or 'Gudhi' were put up in almost every house in Hazare's village in Maharashtra as people, who assembled outside the Yadavbaba temple where he lives, said they were eagerly waiting for their "hero" to return.

"We are also eagerly awaiting his return. He is our hero and we want to give him a hero's welcome," said Hazare's close aide Datta Awari.




Gujarat chief minister Narendra Modi said those who have taken to Naxalism and terrorism should learn from Hazare's anti-corruption campaign as it has reinforced confidence in the strength of non-violence which is "in the DNA of Indians".

Jammu and Kashmir chief minister Omar Abdullah said the ending of fast by Hazare was a victory for people's power and showed the resilience of parliamentary democracy.

To express solidarity with Hazare, 17 people had been fasting at Azad Maidan. "I have no words to express my happiness. It is a victory of common man," 64-year-old cardiac surgeon Dr Ratna Magotia, who has been fasting for the last 12 days, they said.




India Against Corruption (IAC) which spearheaded the agitation said they were elated over the victory. "It is time for celebrations...as we have won in our fight against corruption," Mannan Gandhi, a member of IAC said Hazare supporters poured onto the streets in Kolkata distributing sweets and singing the national song.

"Ending of fast by Anna Hazare is a good decision. We are happy with his demand for an effective Lokpal Bill, which in fact was also our long-standing demand," West Bengal CPI-M state secretary Biman Bose said.




In Sikkim, Yong Tshering Lepcha, a farmer who lost 14 kg during his week-long fast in support of Hazare, too ended his hunger strike. "Truth has prevailed and this is how people like Anna Hazare have inspired even a farmer like me. He has touched lakhs of people and I am just one of them. I could have died for the cause," he said.