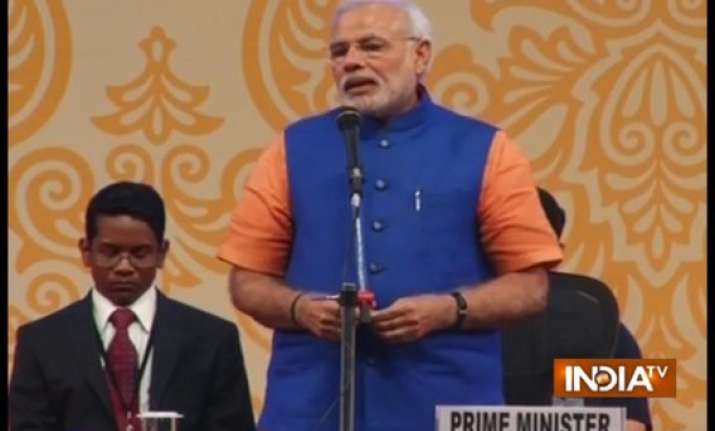 Gandhinagar: Prime Minister Narendra Modi today stressed on the importance of  "self-sufficiency with self-respect".
Modi said this while addressing an event organised by the Gujarat government at Mahatma Mandir in Gandhinagar. Modi said that self-sufficiency with self-respect will boost the morale of the youth to join the mainstream for development of the nation.
The prime minister launched 11 new development schemes of the Gujarat government, which were earlier announced in the budget this year.
The Swavlamban Abhiyan launched by the Gujarat government is to empower tribal women and youth. It provides help for animal husbandry, women's milk cooperative society special scheme, Pandit Deen Dayal Upadhyay Yuva Sahsik Yojna, Nanaji Desmukh housing scheme for labourers.
Modi stressed the need to give equal opportunity to women and rural youth.
Describing the self-confidence of a rural youth, Modi said: "Just now I handed over a tablet to a youth from tribal area. That youth held me and said 'Happy birthday' and shook hands with me. This is the power of the Indian youth."
Clad in a navy blue jacket with a saffron kurta, the prime minister arrived at the venue and said "Kem Chho" in Gujarati - to which the entire gathering in the convention hall stood up, cheered and greeted him 'Happy birthday'.