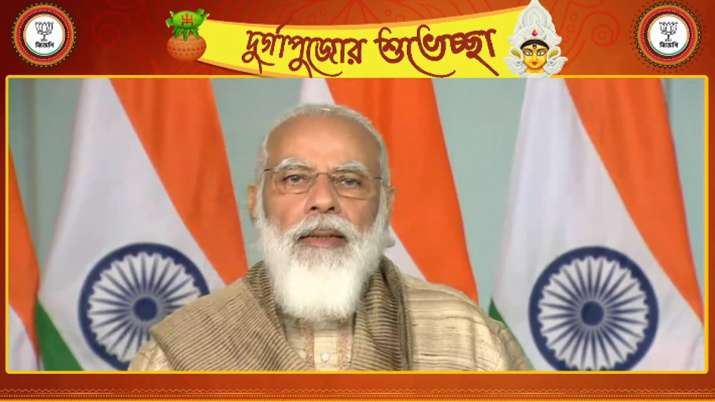 Prime Minister Narendra Modi on Thursday greeted the people of West Bengal on the occasion of Durga Puja. He said that the power of Maa Durga (goddess Durga) and devotion of the people of Bengal is "making me feel like I am present in the auspicious land of Bengal". He said that the festival of Durga Puja reflects unity and strength of India.
"It is also a reflection of the traditions and culture that comes from Bengal," he said and sought to caution people not to lower the guard against Covid-19 during the festival season. 
"We are celebrating Durga Puja in times of COVID19, all devotees have shown exemplary restrain. The number of people might be less but the granduer and devotion are the same. The happiness and joy are still boundless. This is the real Bengal," he said while sharing his "Pujor Shubecha" (Puja greetings) message with the people of Bengal. 
"I urge everyone to ensure 'do gaj ki doori' and wear masks during celebrations at all times," the Prime Minister added.
He said that people of West Bengal have always been intellectual and made the country proud and "I have utmost faith that they will continue to lead India to a brighter future". "On this auspicious day of Mahashashthi I pay my respects to this pious land of Bengal. I also pay my respects to Lokenath Baba, Rabindranath Thakur, Ishwar Chandra Vidyasagar, Netaji Subhas Chandra Bose, Rani Rashmoni and many other Bengalis who make us proud."
With today's address, PM Modi also launched the party's campaign for the next year's assembly elections. The BJP wants to project it as an alternative to the Trinamool Congress which is ruling the state since 2011 under Mamata Banerjee's leadership. The party has been organising a series of events wherein it is highlighting the failures of Chief Minister Mamata Banerjee with a focus on political killings, minority appeasement, and poor handling of the Covid-19 situation. 
The BJP has emerged as the main challenger to the ruling Trinamool Congress and has been exuding confidence that it will end Chief Minister Mamata Banerjee's 10-year-old reign in the state. The saffron party had won 18 seats in West Bengal against the TMC's 22 in last year's Lok Sabha polls and trailed the ruling party in terms of vote share by only three per cent.
The party has decided not to project anyone as its chief ministerial candidate for the Bengal polls. Instead, the party will be highlighting the achievements of the Modi government to counter the ruling Trinamool Congress.