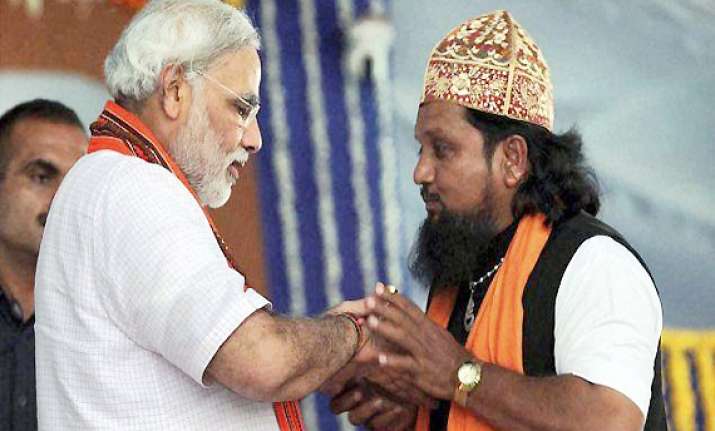 Navsari, Oct 20: As supporters queued up to greet Gujarat chief minister Narendra Modi during his fast here today, one of them had a white-and-black chequered kaffa (a scarf worn by pious Muslims) in hand.
 
As the man wearing a skullcap and kaffa in hand approached Modi, he politely offered to put the scarf on his shoulder, but the chief minister declined the offer.
 
The man took away the kaffa with him, but soon after a controversy broke over this incident.
 
This was the second time Modi had refused to take a gift publicly from a Muslim.
 
When he had sat for his 3-day-long Sadbhavna fast in Ahmedabad last month, a Muslim sufi priest had offered him a skullcap, but Modi had refused to take it, stirring a storm inside a teacup. Today was the second such incident.
 
Said Rashid Alvi, Congress spokesperson to India TV in Delhi: " On one hand Modi aspires to become India's Prime Minister, but on the other hand he is practising discrimination. This is against  the Indian Constitution and insaaniyat (humanity)".
 
"In a secular country like India it is imperative for a politician to take all sections of people along. One should not view such things from the view of political power alone. Modi's real face has been exposed", said Alvi.
 
Political experts in Gujarat, however say, Modi, unlike other politicians, studiously avoids what he thinks as 'pandering to minority appeasement' in order to keep his majority votebank intact.