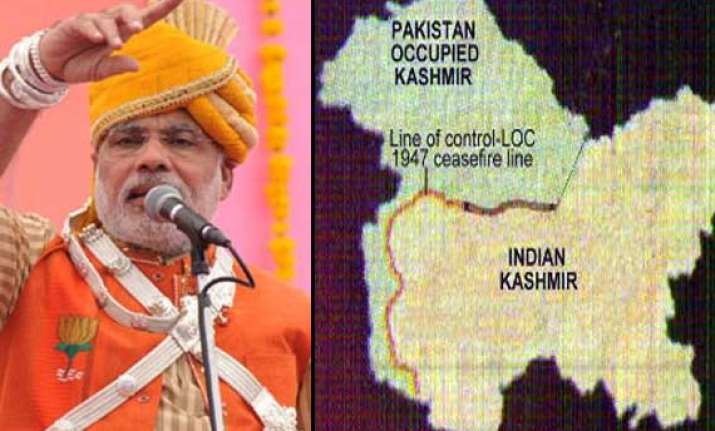 New Delhi: The new BJP-NDA government may be just 6 days old, but it's appearing very apparent that J&K is very high on its official agenda.
The Narendra Modi government is reportedly weighing a proposal to re-name Pakistan-Occupied Kashmir as Pakistan-Occupied Jammu-Kashmir.
An announcement to this effect was likely to be made within the next few days.
That, if it happens, will signal a strategic shift in the Centre's approach to Jammu and Kashmir, which also has high in priority, the rehabilitation of Kashmiri Pandits.
India has always maintained that PoK, which is called by Pakistan as `Azad Kashmir', is integral part of India, and has even reserved 24 seats for it in Jammu and Kashmir Legislative Assembly.
The resolution was adopted in the Parliament during PV Narasimha Rao regime.
Sources said in all official records the Centre and Jammu and Kashmir Government had been writing disputed territory of Kashmir in Pakistan as PoK (Pakistan occupied Kashmir).
However, it has been pointed out by various political observers and experts that since entire State including the territory held by Pakistan is part of Jammu and Kashmir, PoK should be renamed as PoJK.
They added that the Government of India has conceded the demand and was likely to rename PoK as PoJK either through a Parliament resolution or through an official order, whatever was feasible.
A vast territory of Jammu and Kashmir has been illegally occupied by Pakistan, which was divided by the Line of Control (LoC).
Sources pointed out that the Government wanted to send a strong message to Pakistan by renaming PoK as PoJK that entire Jammu and Kashmir State including the territory illegally held by Pakistan is one and that entire State is an integral part of the country.
Renaming PoK as PoJK is being described as new Government's strategy on Jammu and Kashmir under which it was planning comprehensive plan for return of Kashmiri Pandit migrants to the Kashmir Valley.
The ruling National Conference has dismissed the plan as cosmetic. "It's all cosmetic. How does it help? If you remember, the Maharaja of Jammu and Kashmir was known as the Maharaja of Kashmir. How does it resolve the issues?" asked Tanvir Sadiq, Political Adviser of J&K Chief Minister Omar Abdullah.