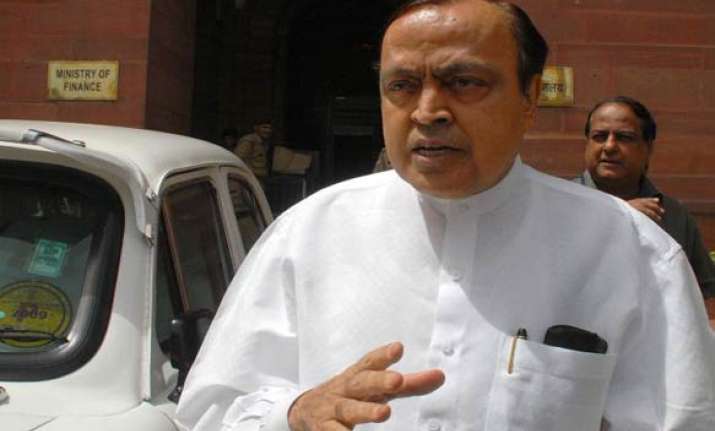 New Delhi, July 5 :  Minister of Corporate Affairs Murli Deora has offered to resign ahead of talk of a possible Cabinet reshuffle.

Deora, 74, said he has offered to resign and sought to dismiss reports that he has asked for his son Milind Deora's inclusion in the council of ministers.

"Yes, I have offered to Congress President Sonia Gandhi to step down from the Union Council of Ministers... Have not asked for anything more... It is not a sudden decision," Deora told PTI.

Deora, however, clarified that he hasn't resigned yet and had offered to relinquish charge of the Corporate Affairs Ministry "orally" to Gandhi a few weeks back.

It wasn't known what Gandhi's reaction was.

"I have the satisfaction of completing a full five-year stint as Union Minister and so now I thought it will be appropriate to step down," he said without elaborating.  

There is talk of a Cabinet reshuffle after President Pratibha Patil's return from her sojourn in Hyderabad on July 8.

Deora in a statement issued today said he  has offered to quit because of personal reasons and would like to work for the party.
 
Deora, one-time strongman of Mumbai Congress, wants his son Milind Deora, a two-time MP, to be made Minister of State at the Centre.

An Indian Express report said, Deora had been piqued over the mannger in which his successor Oil Minister S Jaipal Reddy handled the media on the draft CAG report which pointed out several violations in the execution of exploration contraqcts by the ministry between 2006 and 2008.

Deora was petroleum minister between January 2006 and January 2011, before he was shifted to Corporate Affairs.

Deora wanted the media to be told by the oil ministry that it was he who had asked the CAG in 2007 to audit exploration spending in the Krishna-Godavari block operation by Reliance Industries, Rajasthan block by Cairns India and Panna-Mukta & Tapti fields by the BG group.

Deora had been telling party leaders that it was he who had assured the CAG in August 2009 that it would get unfettered access to the accounts of these operators after the CAG complained that one of the companies  was reportedly reluctant in providing access to records.