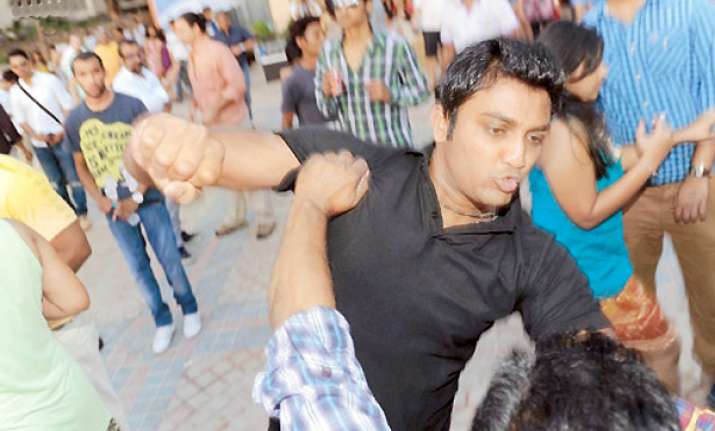 Mumbai, Apr 16: A bouncer at a five-star hotel in Mumbai bashed up two photographers who had veen clicking pictures of models  taking part in a poolside party hosted by a liquor company on Sunday.
Those bashed up included MidDay photographer Satyajit Desai  and freelance photographer Dasharath Kadam.
They were abused and attacked by  the bouncer because they were clicking the pictures of models at the poolside.
The incident took place at   Hotel Sea Princess in Juhu on Sunday.
After the photographers rang up the  police, the Santacruz police initially hesitated, but after pressure from media, the police have registered a  case against the bouncer and he has been detained.
Desai said, he had been assigned to cover a poolside party hosted by a liquor company. He had with him the invite sent by the organiser, requesting the paper to cover the event.
Desai started capturing the event on his camera.
Some of the shots included that of models present at the event, clad in swimwear near the pool.
Seeing him clicking photographs of the event, the bouncer, Prateek Chavan, objected, and shoved him, using foul language.
Managing to save his camera from falling into the pool, an irked Desai asked why he was being abused for doing his job. It  was then that the bouncer started beating him up.
When Kadam rushed to his rescue, he too received blows. "He attacked us, injuring us," said Desai.
"I am bleeding," said Kadam. The two phographers went to the Santacruz police station and registered a complaint against the bouncer, who was later detained.
"I am aware that the bouncer attacked the photographer. I have also given my statement to the police," said Kamran Shaikh, event PR who had arranged for the bouncer.
"I have registered the FIR against bouncer," said Dattatray Kokare, duty officer, Santacruz police station.