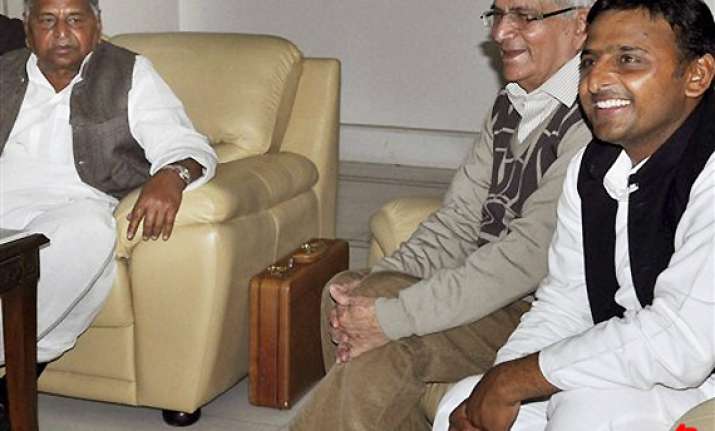 New Delhi, March 6: Mulayam Singh Yadav will take over as Uttar Pradesh's new chief minister and the statues erected by Mayawati in Uttar Pradesh will not be removed,Samajwadi Party leader and Mulayam's son Akhilesh Yadav declared today. 

Yadav said, his party's government may consider building medical colleges on the open land in parks where Mayawati erected the statues.

SP parliamentary board will meet on Wednesday to finalize the name of the legislative party leader, and it's the wish of the entire party that Mulayam Singh should become chief minister, Yadav said,.

On charges of 'goondaraj' during the previous SP rule, Akhilesh Yadav said, we tried our best to dispel the apprehensions of the people on this count. Anybody violating law will be strictly dealth with, he said.

On comparisons being made with Rahul Gandhi, a shy Akhilesh said; "I never wanted myself to be compared with any body. In politics, one loses and also wins. If you lose, you have to accept defeat, and if you win, you express gratitude."

Akhilesh Yadav said, his party's government would implement the recommendations of Sachhar Committee and Ranganath Mishra Committee for minorities, and Urdu will be introduced as the medium of teaching.