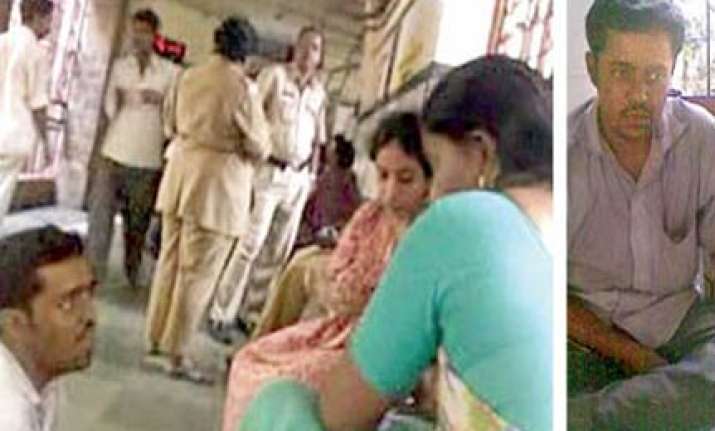 Deepika Parmar, who flung her baby out of the window at KEM hospital, was bogged down not just by rising debts and her children's deteriorating health but also because her husband Manish was a patient of leprosy, reports Mumbai Mirror.

Manish told Mumbai Mirror she was constantly worried that the twins would get an infection from him.




The 26-year-old's cousin added that she was pessimistic about the chances of the prematurely born twins because of his condition.

Manish said, "I have a wound on my foot and she was constantly asking me to be careful so I wouldn't give them the infection." Pragnesh Darji, Deepika's cousin said Deepika's mental condition, which was disturbed because of financial woes and the social stigma of being unable to have a child that survived after 10 years of marriage, was worsened by his illness.




Manish's parents, Vasuben and Chandulal, also have health problems. The children's premature birth and ill-health stretched the family's finances beyond endurance, members said.

"My wife was upset that we were spending so much money on our babies but they were not getting any better," said Manish, who added that he did not even have the money to cremate his daughter. "Two constables from Bhoiwada police station donated money for their cremation," the tailor said.


Darji said, "The family's financial condition has always been poor. After the birth of the twins, their expenses mounted and they borrowed money from every possible source.

They also sold their house." He alleged that his sister had been under pressure for many years because two of her children had died within weeks of their birth in the past.


However, Deepika's father-in-law, Govind Chandulal said, "We have never put pressure on her. Relatives who visited us brought it up sometimes but Deepika said nothing." He added, "My son has had leprosy since he was a child and has been undergoing treatment  for the same. But he is not the cause of the children's condition."

Manish is eager to talk to his wife to understand why she took the drastic step. But he said Deepika had not uttered a word to him. "Whenever I ask her anything, she bursts into tears," he said.




When Mumbai Mirror approached Deepika on Thursday she seemed calmer than before. But she kept repeating that she didn't know what had happened that day. "I don't know where my baby is," she said.

Dr Shubhangi Parkar, Head, Department of Psychiatry, KEM, said there had been some change in the mental state of the 26-year-old, who was absolutely unresponsive after the incident came to light on Tuesday. "She is now feeling the loss of her child.
 




Considering the lack of social support, her anxiety, depression and the social stigma she has faced, she needs time.

The law will take its course. However, I think there is more to her than what has been portrayed. We will try our best to find out what her reasons are."

The police is not keen on Deepika's immediate arrest. "She needs to take care of her surviving child.

We will arrest her when the hospital says we can. For now, the investigations are on," said Vikram Patil, Senior Police Inspector, Bhoiwada police station.