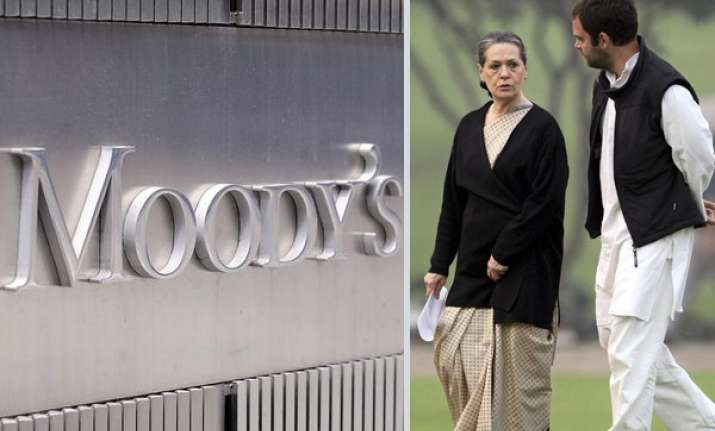 New Delhi, Apr 26: A day after slamming the government for its tardy attitude, Congress' first family has come under criticism by Moody's Analytics for failing to restart the legislative process for reforms, accusing it of blowing their chance in the recent state elections including UP.
"The real power behind the government, the Gandhi family, blew their chance to restart the legislative process at the recent state elections in which family scion Rahul Gandhi invested countless hours and money touring the rural backwaters of Uttar Pradesh," Moody's Analytics Senior Economist Glenn Levine said.
He noted that the Congress party was drubbed by Mulayam Yadav's Samajwadi Party and "Gandhi has barely been heard from since then".
The remarks preceded its contentions that the UPA government, weighed down by corruption and funding scandals, has passed no notable bills.
"The government has lost all momentum and progress is unlikely on existing bills covering pressing issues such as land reform, fuel subsidies, labour rights, and the much-discussed supermarket reforms between now and the next national election in 2014", the report said.
It pointed out that Prime Minister Manmohan Singh led the Congress party to victory in 2009, giving it a strong mandate to accelerate the economic reforms begun in his first term.
The report termed Prime Minister Manmohan Singh as an "ageing technocrat who now appears tired of the rough and tumble of Indian politics", and added that the UPA didn't have the numbers or the leaders to push through tough-minded reforms needed to drive the next wave of growth.
Moody's Analytics is a division of Moody's Corporation that provides expertise in economic and consumer credit analysis, credit research and risk measurement, enterprise risk management and structured analytics and valuation.