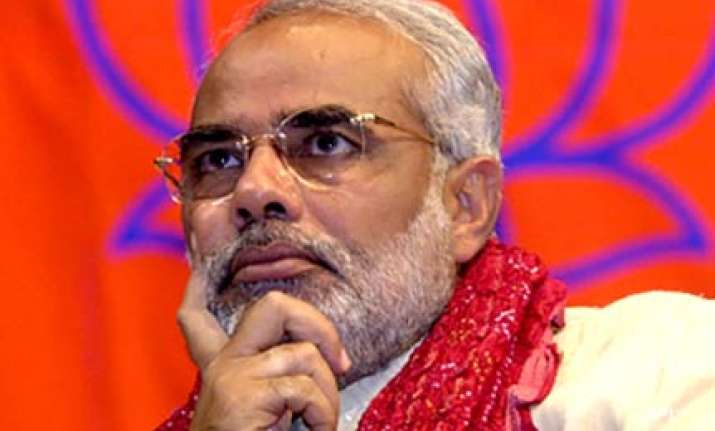 Vadodara: Gujarat Chief Minister Narendra Modi on Saturday slammed Home Minister P C Chidambaram's "saffron terror" remarks and asked Prime Minister Manmohan Singh to seek an apology for them.
Speaking at Garib Kalyan Mela held here, Modi came down heavily on Chidambaram for using the police officers' forum for making such a statement and said "it is a great insult to the people of India who never attacked any other country and are known for its peaceful civilization".
"Which foreign force compelled the Home Minister to make such a statement?" said Modi.
He said even the Britishers, during their rule over India, had not made such remarks.
Modi said "a committee having Jawaharlal Nehru as its member had approved the inclusion of saffron colour in Indian tricolour. Then, why is the Union Home Minister raising this issue? Terrorism has no colour".
Modi threatened to launch a statewide campaign against the Home Minister's remarks and asked the people to hold rallies across the state and send letters and e-mails to the 'Delhi Sultanat' (Government of India) protesting the utterances.
Addressing a function of DGPs in Delhi on Wednesday, Chidambaram had said a new phenomenon of "saffron terrorism" involved in many bomb blasts has been uncovered.
His comments came against the backdrop of investigators finding links between Hindu extremist outfits and at least five bomb blasts in recent years - at Hyderabad's  Masjid, at Ajmer, Goa, Malegaon in Maharashtra and Modasa in Gujarat.
Modi said by making such a statement, Chidambaram has tried to belittle the work done by saints like Swami Vivekananda, Swami Dayanand Sarswati, and Army jawans who sacrifice their lives to protect the country's borders.
 "The temples have saffron colour flags atop them but that does not mean that they symbolise terrorism," Modi said.
 Modi asked Congress leaders to stop vote-bank politics which can throw them out of power.
He reminded how the then Prime Minister Indira Gandhi had to lose power after imposing Emergency in the country on June 25th, 1975, and kept leaders like Morarji Desai, A B Vajpayee and L K Advani in jails for 19 months.
Targeting local Congress leaders, Modi said they have become spokesmen of CBI.
 He asked the people to teach their party candidates a lesson by defeating them in coming civic and panchayat polls in the state.
He targeted the 'Delhi sultanat' in his speech several times alleging that it is trying to destabilise the Gujarat government by misusing CBI. He warned the Centre not to underestimate the strength of the people of Gujarat who are ready to meet any challenge thrown at them.
 "It was Gujarat's Mohandas Karamchand Gandhi who did not take his insult lightly when he was asked to get down from a train in South Africa and freed the country from British rule. Similarly, Gujarat can unsettle the 'Delhi sultanat'," Modi added.
Modi disbursed assistance and equipment kits amounting to Rs 24 crore among over 5200 beneficiaries in the Garib Kalyan Mela which was organized by the Vadodara Municipal Corporation and district collectorate. PTI