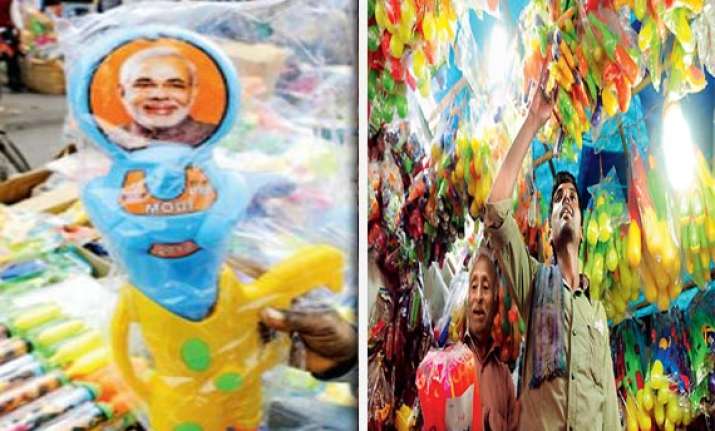 New Delhi: In election year even Holi is going the political way.
Pichkaris (colour sprinklers) named after Narendra Modi and Arvind Kejriwal have flooded the market and some are selling like hot cakes.  
Everybody seems to want a bit of Modi in their pichkari.
And Sadar Bazaar is all geared up with appropriately packaged water guns to keep both camps busy.
Kids and even the workers of both the parties have started flocking the market to purchase them.
In earlier years, manufacturers had come up with pichkaris in the shape of cartoon characters like Mickey and Donald, but this year they decided to test political waters of a kind.
The demand is such that one of the shopkeepers selling Modi water guns for Rs 140 each, is now planning to plaster the rest of his merchandise with Modi stickers too.  
He plans to give one packet of orange gulaal free with every Modi purchase to keep the saffron spirits high.
Another shopkeeper has already sold out his share of Kejriwal cannons and plans to leave for his hometown Purnia.  
A salesperson at Shree Krishna store confirms that the tussle for Holi merchandise is mainly between Modi and Kejriwal with Modi now gaining real momentum.