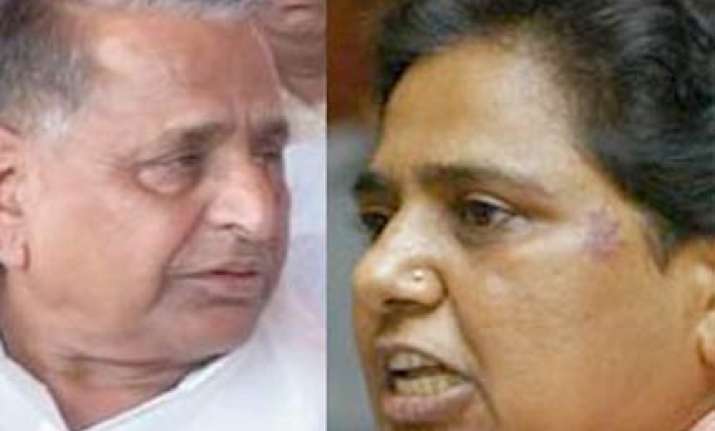 Uttar Pradesh Chief Minister Mayawati found herself under attack as she celebrated 25 years of her party BSP's formation today with the Opposition alleging she had spent Rs 200 crore of public money on the 'Maharally". 
A stark display of wads of Rs 1,000 notes stitched in a mammoth garland and estimated to be running into millions of rupees presented to her at the rally gave more ammunition to the opposition to target the BSP supremo. Samajwadi Party leader Shivpal Singh Yadav demanded a CBI inquiry into how such a huge amount was openly given in public. 
"While Bareilly is on fire, Mayawati government is spending Rs 200 crore of public money on a rally," SP chief Mulayam Singh Yadav said in Lok Sabha. Yadav was joined by leaders of BJP and Congress in demanding Centre's intervention to restore normalcy in riot-hit Bareilly. Samajwadi Party leader Shivpal Singh Yadav alleged that the cash in the garland was the money of the people amassed through corrupt ways by her ministers. 
The 'Maharally', held in the shadow of the Opposition attack in Parliament over the communal violence in Bareilly, was utilised by Mayawati as a show of strength where she attacked the Congress for pushing the Women's Reservation Bill. 
Calling Congress anti-Dalit, the BSP supremo announced demonstrations against the bill across the country on April 14, the birth anniversary of Dalit icon DR B R Ambedkar. The rally held to celebrate the 25th anniversary of BSP, also the 76th birth anniversary of party founder Kanshi Ram, was attended by tens of thousands of people. Blue--the colour of the BSP--dominated Lucknow city's landscape ahead of the rally touted as the biggest ever in the state. 
Hitting back at the opposition parties criticising her for installing her own statues, Mayawati said law does not prevent erecting statues of living persons. 
Uttar Pradesh government meanwhile ordered an inquiry into the sudden appearance of a huge swarm of honeybees at the venue of the maharally while Mayawati was delivering her address. PTI