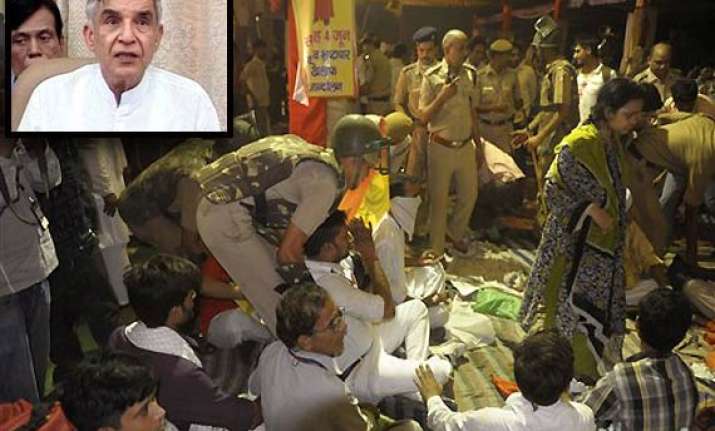 New Delhi, June 12: Charging Swami Ramdev with going back on his words to end his indefinite fast, Union parliamentary affairs minister Pawan Kumar Bansal defended the midnight police action against the yoga guru saying it helped in preventing casualties.

Bansal, who was one of the interlocutors who held parleys with Ramdev, also scoffed at suggestions that the government was arrogant in dealing with the situation.

"He (Ramdev) said he would withdraw it (the agitation) in the afternoon of the first day (June 4). And he did not... after a sort of agreement between the government and Ramdev, when we found that the things were getting out of hands, he was sticking to what he had said, the government had to take that action," Bansal told Karan Thapar in his  TV programme.

The minister also sought to defend the decision to crackdown at Ramlila grounds at the middle of the night.




"If police were to reach that place in the morning when Ramdev was exhorting something to people, the reaction of the people would have been very violent...led to at least a 100 deaths," he said.

Asked why the people at Ramlila grounds were not given a reasonable deadline to leave the venue, Bansal said midnight was the "only time" when the government could have taken action.

"I feel, had the government waited for the next day and sent some people in the afternoon, you could not have done anything. That time baba would have been sitting there and somehow inciting people there...," Bansal said.

Ramdev did not "immediately agree or accept to what the authorities had to tell him. He said give me five minutes and I'll be back. What he does is jump off from the stage, incite people," he said explaining the run up to the crackdown.

He said policemen at the ground were not armed except for the teargas guns and fired only a few shells that too "not at the people".




To a poser on whether the government was actually ignorant about Ramdev's plans of holding indefinite fast while seeking permission for a yoga camp, Bansal replied in a negative but said the government was only giving him a "long rope".

The minister also blamed the yoga guru for extracting defeat from the jaws of victory.

Asked if he would apologise for the police action which left several injured, he said, "Apology would be if government or government agency has done something deliberately somewhere."

Bansal, at the same time, said he was saddened that one of the injured, Rajbala, would not be able to walk again.