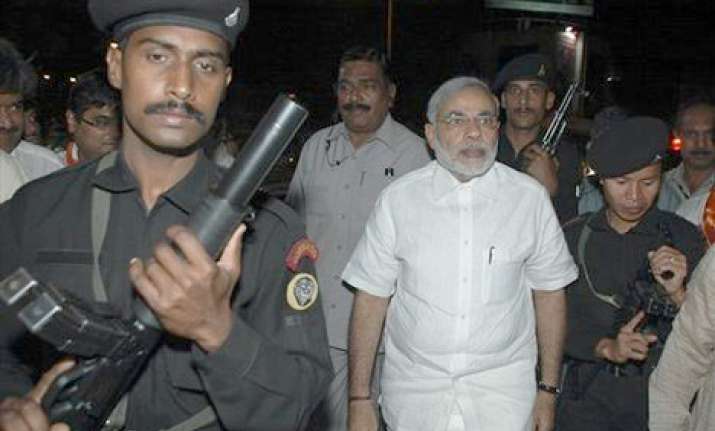 After being grilled for nearly 10 hours overnight by the Supreme Court-appointed SIT in a Gujarat riots case, Chief Minister Narendra Modi appeared unfazed saying for eight years he has been subjected to trial by the media which continues "to keep me in the dock".
59-year-old Modi, who was quizzed by the Special Investigating Team in two marathon sessions on Saturday, the second one ending well past midnight, refused to get into details of the question and answer session.
"In the last eight years, this is for the first time someone wanted to question me. I came in for questioning on the first date they mentioned. Those who are spreading rumours about me not answering for eight years, I ask God to give them some good sense. We should always create the right atmosphere where laws can be upheld," he said.



"Vistaar se batcheet ki (we spoke in detail)," he said, adding, "Under the Indian Constitution, the law is supreme. As a common man, CM, I am bound by the Indian Constitution and the law. No one can be above the law." Asked what sort of questions he was asked, Modi said, "I cannot share that with you because the SIT has to submit its report to the Supreme Court."
Modi, who proved his detractors wrong by appearing before the SIT, looked relaxed despite the gruelling session that ended at 0100 hours today. 
To a reporter's question that he has been in the dock for the last eight years ever since the 2002 Gujarat riots, Modi quipped, "Abhi bhi main aapke kathare mein hi khada hoon. Aur aat saal se aap logon ne hi khada kiya hai"( Even now, I am in the dock in your (media) court and for eight years you have only put me there). 
Though there was no official word on what he was asked, Modi is said to have replied to 62 of the 68 questions put to him by SIT. Modi said he recalled to the extent possible the sequence of events that had taken place eight years ago. 
The Chief Minister said his questioning at the SIT office at the old secretariat building, the first since the communal violence of 2002, has concluded. "I have been told by SIT that my work is over," he said. His statement was recorded by the SIT investigators after which he signed it, Modi said. 
After the first session of quizzing starting at around noon last five-and-a-half hours, Modi returned to the SIT office at 9 PM and faced a second round of questioning for four hours as he was keen that the entire exercise be completed in one day.
The controversial BJP leader is facing allegations of omission and commission with regard to the mob attack on a housing society in which a former Congress MP Ehsan Jafri and 68 others were killed by rioters. He was questioned by a team of officers headed by A K Malhotra, a former CBI DIG. 
SIT Chief R K Raghavan was not present in his office when Modi appeared in the first session in response to the panel's summons. Raghavan said it was not mandatory for him to be present at the questioning. Modi has been named as one of the 63 accused in the petition filed by Zakiya Jafri, widow of Ehsan Jafri. Ehsan wants the SIT to prosecute Modi. PTI