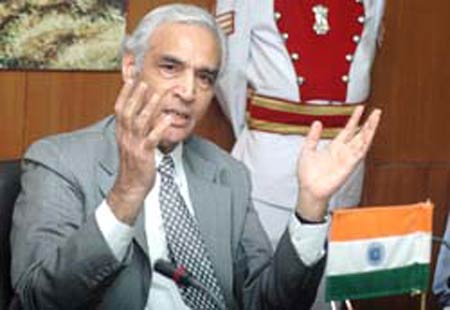 Delhi's Lt Governor Tejinder Khanna and chief minister Sheila Dikshit on Tuesday visited the site where a multi-storeyed building collapsed on Monday night.
Lt Governor Khanna said, he has directed the Municipal Corporation of Delhi commissioner to carry out a structural safety survey of all unauthorized constructions in Shahdara Zone to find out buildings which are unsafe for habitation.  
Khanna said he had spoken to Prof Bhattacharya, the director of Central Building Research Institute in Roorkee to send an experts team to survey multi-storeyed buildings that were erected on the soft Yamuna riverbed over the years.  
Khanna said, it was apparent that builders were not paying attention to the safety aspect while carrying out unauthorized constructions, even as the Yamuna bed soil is not strong and buildings need to have deeper foundations.  Due to population pressure, buildings which were approved for single or doubte storeys now have four or five storeys, he said.  
Buildings that need retrofitting could be retrofitted to give them strength, while buildings which are completely unsafe need to be sealed and demolished, Khanna said.  
Chief Minister Sheila Dikshit said exemplary punishment would be given to persons responsible for this lapse which caused the building to collapse.  
BJP leader Vijay Kumar Malhotra demanded a judicial inquiry into the incident, describing it as a "massacre". Malhotra said, the persons responsible for this unauthorized construction should not be spared because of their political leanings.