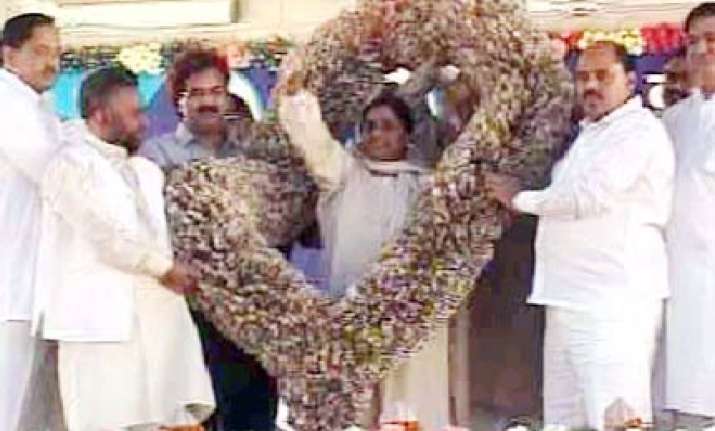 Brushing aside the opposition outcry, Uttar Pradesh chief minister Mayawati on Wednesday displayed brazen defiance by getting herself garlanded with currency notes valued at Rs.18 lakh.
As a fall-out of the controversy, Karnataka BSP spokesman Y N Sharma, who on Monday disclosed that it was a garland of currency notes, was on Wednesday sacked from the post. He said he was being made a "scapegoat".
Even as the controversy triggered by the garland of Rs.1,000 notes worn by her on Monday raged across the political spectrum, Mayawati appeared at a meeting of her party leaders here and put up a defiant show.
Parliament was rocked by the issue on Monday and Tuesday with BSP's opponents disrupting proceedings and demanding action against Mayawati. The Income Tax department also said it would probe the issue.
Today's display was also attacked by political parties including Congress, BJP and SP leaders who described it as a blot on democracy and a brazen display of love for money.
The latest garland comprising notes of various denominations carried by five men was put around her neck at a meeting of party leaders two days after she was felicitated with 1000-rupee notes estimated between Rs 21 lakh and Rs 15 crore at a massive BSP rally here.
"We want to tell our opponents through the media that it is a matter of happiness that workers from 18 zones of the party brought collections in one rupee notes which has been strung around. The garland is worth Rs.18 lakh.
"We also want to announce that, Mayawati permitting, that wherever she goes, she will henceforth be greeted with garland of notes and garland of flowers," PWD minister and the Muslim face of BSP Naseemuddin Siddiqui announced at the meeting to a thunderous applause of the gathering of partymen. PTI