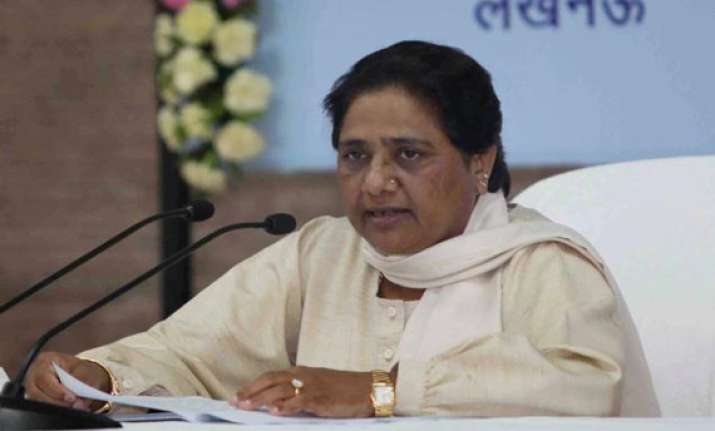 Lucknow, Jan 15 : In a veiled attack on Election Commission, UP Chief Minister Mayawati today said its order to cover statues of BSP's poll symbol 'elephant' and those of her own was "one-sided, wrong and an insult" of party founder Kashiram's will.

"The Election Commission made a one-sided decision to cover statues of elephants and those of mine installed to honour the will of Kanshiram, without hearing my party," she told reporters on her 56th birthday.

"People of 'sarvsamaj' associated with the movement and other intellectuals are considering it to be a decision taken with casteist and anti-dalit mentality," she said. 
Mayawati also announced tickets for candidates in Uttar Pradesh's 403 seats including 88 from Scheduled Castes, 113 from Other Backward Classes, 85 from minorities (including Muslims) and 117 from upper castes including 74 Brahmins. 

Referring to an EC order, the BSP supremo said that the Commission had removed two officers of the dalit community on the complaints of opposition parties. 
"Statues of elephant were installed as per the Indian culture and not because of being the BSP symbol.
These statues have been installed to welcome the visitors," she claimed.  She alleged that in the past, statues of elephant were installed at a number of places in the country with money coming from the state exchequer.

"Similarly, the poll symbol of Congress and BJP were associated with religious beliefs of the people," she alleged. 
Mayawati said, "Considering this fact the EC should have taken a right decision about statues of elephant installed by her government at memorials and parks."

She said that while directing to cover her statues, the EC has given logic that as they were erected with money from government funds, it would make an impact on the electorate. 
"In case if a person erects my statue from his own expenditure it will not make any impact on the voters from the EC's point of view. People of my party and others are unable to swallow the logic," she said.