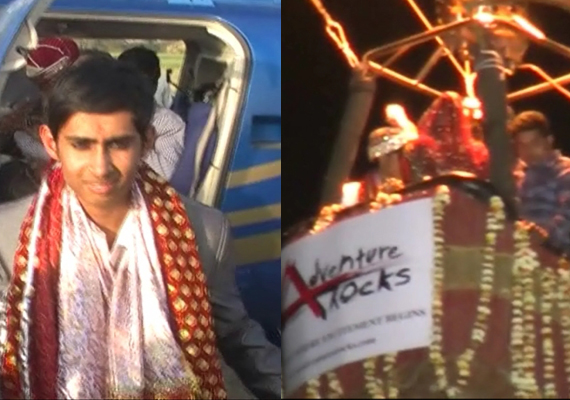 Mathura, Mach 11 : It was a wedding to be remembered by residents of a dusty village near Mathura for years to come.
 
Forget lavish theme wedding parties in seven-star urban hotels. The groom and the bride decided to exchange garlands in a hot air balloon.
 
On Saturday, Rajaram Pandey's son Pawan, the groom, descended on the tiny hamlet of Bhadawal near Mathura in a helicopter, to fulfil, what he called "the last wishes of my dadaji (grandpa)".
 
The couple then proceeded to a hot air balloon, rose up in the air and exchanged garlands in the traditional style, amidst deafening applause and music.
 
People from nearby villages descended in droves to witness this "on air" wedding.
 
The wedding reflected the rising aspirations of  the rural rich living in the countryside,that is Bharat, to match with the rich, fat urban weddings in the matter of ostentation. That too, at a time, when large swathes of rural India  are witnessing farmers neck  deep in debts.