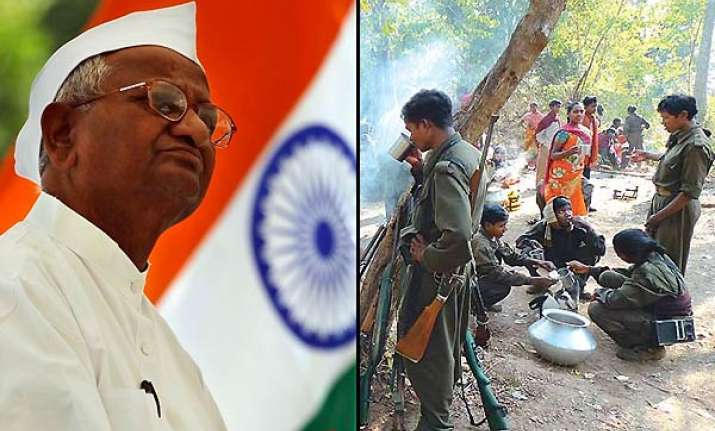 Ranchi, Jun 9 : Underground Maoists have come out in support of civil activist Anna Hazare's mission for the setting up of a Lok Pal to curb corruption, reports Times of India. 

Manas, a spokesperson of the Simant regional committee, a unit under the Bihar Jharkhand North Chhattisgarh Special Area Committee (BJNCSAC) said certain issues that the Maoists  have been raising since long are now being taken up by people from the civil society.

"We have been saying that  India has to get rid of fascism and imperialist rulers for establishment of neo-democracy and the leaders in civil society seem to have realized it as the need of the hour," he said.

Agreeing to the fact that "corruption at different levels of government and black money owned by capitalist business class and imperialist ruling class safely stashed in foreign accounts is national property", Maoists are of the opinion that minor changes or reforms in governance cannot deal with such big issues.

"We do not doubt the integrity of Hazare but it would be premature to think that the way he is approaching the issue is going to be addressed by the government, which is under grip of corporate houses," he said.

A senior Maoist ideologue said the civil society movement has served one of the purposes of communist movement politicalisation of the masses.

"At our previous meetings, we have realized that lack of political awareness in the middle class often served as major bottleneck in the spread of communist movement and the time is ripe when the public outrage against governance evident today through the mass participation in the Hazare-Ramdev movement should be channelized in the right direction," he said.

With reports of Maoist sympathizers and villagers coming forward to demonstrate solidarity with Hazare, the Maoists are gearing up to utilize public outrage in supporting of their movement at the base level.

Supporting the call of Hazare for participating in the "second war of independence", the Maoist ideologue said that there was ample scope for talks with leaders of civil society to chalk out a mechanism towards achieving common goal.

Prashant of BJNCSAC said earlier the Maoists have been raising the issue of police atrocities in tribal-dominated villages of Bihar and Jharkhand that went unheard but now when the  Delhi  police cracked down on supporters of Baba Ramdev at Ramlila grounds, they realized the pain.

"Under every circumstance, the act of police violence must be condemned and we too criticize the act in strongest words," he said.