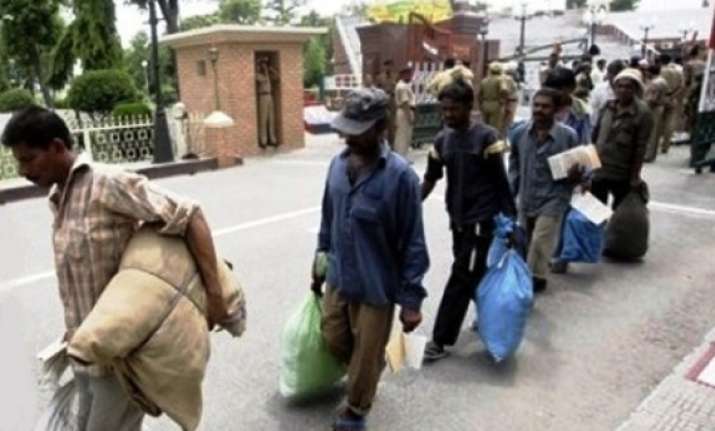 Mumbai, Jun 27:
A 27-year-old man, claiming to have sneaked into India from Pakistan-occupied Kashmir (PoK) when he was nine, has moved the Bombay High Court praying that he may be sent back home so that he can join his family.
Siraj Khan, who accidentally crossed the Attari border in 1995 when he was a school going kid, prayed that he was not getting a suitable job here and the only way to live with dignity and pride was to return home in PoK.
The matter was mentioned today by lawyer Ejaz Naqvi before a bench headed by Justice A M Khanwilkar.
However, the bench said there was no urgency in the matter and kept the petition for hearing on July 9.
According to Naqvi, Siraj was born in 1985 at Manshera in PoK. As his parents insisted that he should go to school everyday, he got fed up and decided to run away. One day he bunked school and caught a train which reached him to Attari border where he saw people crossing barbed wires (line of control). He too joined them.
Eventually, Siraj reached Delhi in December 1995.  After a few days he went to Varanasi where he worked as a waiter in a restaurant. Later, he came to Mumbai.
However, in 1998 when he tried to return to PoK he was caught by a railway ticket examiner in Ahmedabad who handed him over to police. He then spent a year in a juvenile home in Gujarat and was released in 1999.
Thereafter, he came back to Mumbai and got a job in a catering company. Once again he attempted to go to PoK from Wagah border. But the authorities denied him entry and threatened to put him behind bars, Siraj said in the petition.
Siraj again came to Mumbai where he met Sajida and married her. They are blessed with three children and stay in Wadala here.
He once again tried to go to PoK and visited the CID office. He was then handed over to police and arrested under Passport Act and Foreign Citizen Act. Later, he got bail.
Siraj is unable to find a suitable job in Mumbai and has sought the help of High Court to return home in PoK to join his father's tea business.