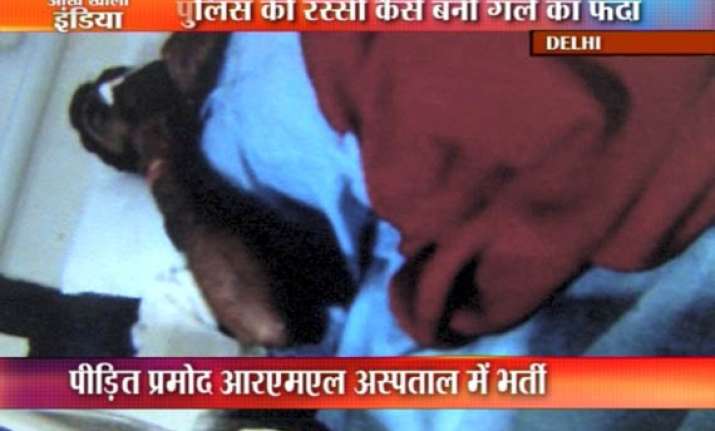 New Delhi, Nov 19: A 35-year-old man Pramod Tanwar driving a two-wheeler was going to his home in Naraina on Thursday morning, when he got entangled in a rope suddenly thrown on the road by Delhi policemen to create a security cordon for the movement of Prime Minister Dr Manmohan Singh to the airport.
 
Dr Singh was leaving Delhi to attend the India-ASEAN Summit in Indonesia.
 
The incident took place at  around 9:15 am on Dhaula Kuan Road near Hotel Maurya Sheraton.
 
Pramod was on his bike  when the security cordon rope that was thrown on the road for the PM's movement was suddenly pulled up by callous Delhi policemen and his neck got stuck in the rope.
 
 Pramod fell on the road. He was returning after prayer at Sai temple on Lodhi road when the mishap took place.
 
Policemen pulling the security cordon rope fled from the spot. The man rang up his friend who informed the PCR and the man was taken to Ram Manohar Lohia Hospital, where it was found that his breathing pipe was damaged.
 
On Friday, Pramod's neck was operated upon and a ventilator was inserted in his breathing pipe. He is unable to speak  and wrote down the details of his trauma on a notepad.