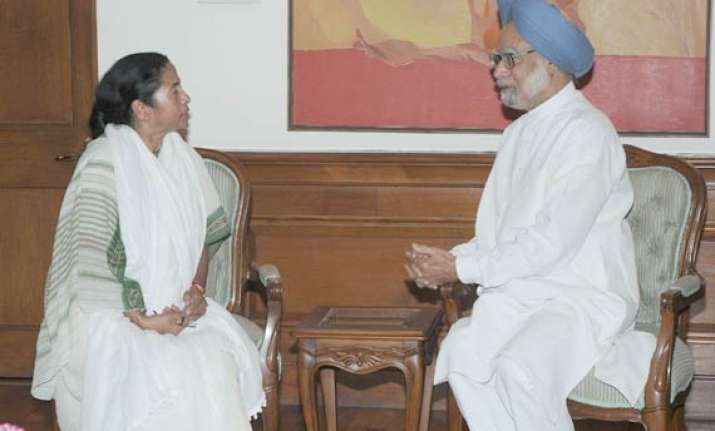 Kolkata, Dec 3 : In a rebuff to Prime Minister Manmohan Singh, Trinamool Congress chief and West Bengal Chief Minister Mamata Banerjee on Friday rejected outright his request to reconsider her objection to FDI in retail but said she would not rock the UPA boat.

The Prime Minister, who had finally managed to catch her on phone after several futile attempts as the Chief Minister was touring "interior areas" of Howrah district, appealed for a FDI bail out to which the Chief Minister said she had her own commitments to the farmers which could not be ignored before communicating her inability to oblige the Prime Minister, reports The Pioneer.

"The Prime Minister phoned me and asked me about the health of my mother who is in hospital before making a fresh appeal for my party's support for FDI," Banerjee who was once again touring Hooghly district said.
However "I expressed my gratitude to him for phoning me before communicating my inability to support his cause as we have some commitments to the farmers which is quite explicit in out manifesto," she said adding that in no circumstances she would like the UPA to fall.
"I am very much in the UPA and will never like it to fall," she said. "The Prime Minister continued to request me and so I told him that though my party had taken the decision after thorough discussion we could discuss it again.
But then this is a sensitive issue and I am answer able to my people. "So it will not be possible for me to support FDI."

Urging the Prime Minister to reconsider and withdraw the Centre's decision, she said, "If necessary, the Government should talk to all UPA partners and seek suggestions and ensure that the move is withdrawn."