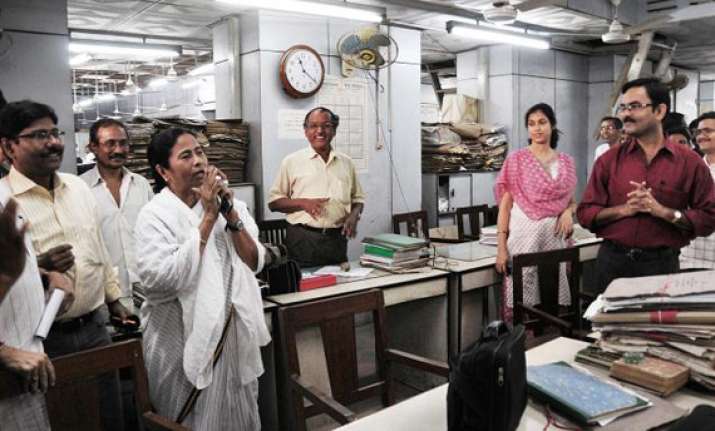 Kolkata, Oct 21 :  As a feisty opposition leader, she lost no opportunity to pull up the then Left front government for the lack of work culture in West Bengal. Now, when Chief Minister Mamata Banerjee has offered a ten-day holiday for state government officials this Durga Puja, there is surprise, and there are sniggers.
This, some say, is just another example of Banerjee's sommersault. Known as a stormy petrel while in opposition, Mamata has, since assuming the reins of state, attempted hard to keep her popularity intact with populist measures.
Banerjee's decision to declare Oct 26 a holiday has provided state government employees an uninterrupted break from Oct 20-29 to enjoy puja festivities at great leisure.
For the babus, the break started from Oct 20 (Saturday - a weekend holiday), covering the four Durga Puja days of Saptami, Ashtami, Navami and Dashami.
With the state government earlier having also declared Oct 25 a holiday, its employees would have had to return to work Oct 26, Friday, before enjoying their weekend, Saturday and Sunday (Oct 27-28). The Laxmi Puja holiday falls Oct 29.
Now, with Oct 26 also declared a holiday, all government transactions after Oct 19 will have to wait until Oct 30.
"This is bound to inconvenience the public, who have to visit government officials off and on for business purposes, getting various certificates or for problems regarding government schemes. If a person has a problem on Oct 22, he has to wait for over a week now before he can even hope to reach the babus," said Saptarshi Sarkar, a middle-aged school teacher.
T.P. Dutta, a banker, says the decision is nothing more than "cheap populism".
"The crime graph is rising. Every day, there are reports of rape and molestation of women. Industrialists shun the state, thanks to the government's faulty land policies. But "didi" (elder sister - as Banerjee is called) is trying to deflect attention from all that by creating a "feel good factor" to keep people happy," Dutta told IANS.
"It is difficult to imagine that she is the one who used to attack the Left Front regime regularly for its lack of work culture," says Debasish Sen, a businessman.
Till the time of Jyoti Basu, who stepped down as chief minister in 2000, the state government employees used to enjoy a holiday from Saptami of Durga Puja upto Laxmi Puja, a break of nine days.
However, Buddhadeb Bhattacharjee, who succeeded Jyoti Basu, and coined the slogan "do it now", cut down the leave to five days during Durga puja. The employees had to join duty for three days and were then allowed a day's holiday on Laxmi Puja.
But Mamata Banerjee's largesse has the grin on babus' faces getting broader and broader.
Banerjee, though, has announced that she will attend office at the state secretariat "Writers Building" on all the Durga Puja days except Dashami.
She has also instructed her ministers to join duty whenever they get time from their puja commitments.
The government has also, for the first time, opened a round-the-clock control room at the state secretariat to tackle emergency situations like natural disasters, accidents or militant strikes during the ten-day break.
IAS and IPS officers have been put on duty at the control room, assisted by state civil service officers.
Top bureaucrats including chief secretary Sanjay Mitra will also attend office on all ten days.