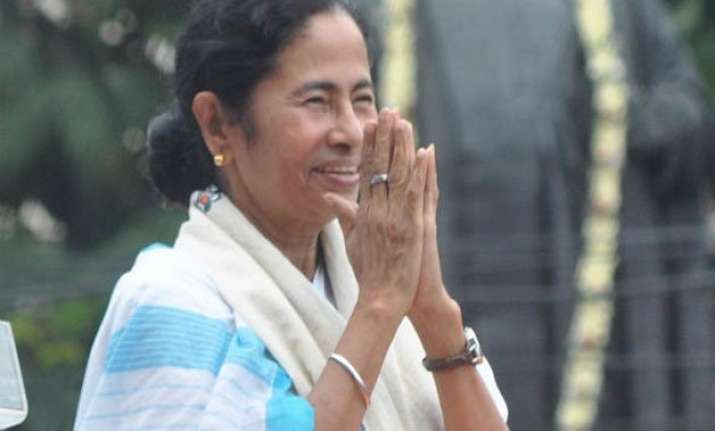 KOLKATA: West Bengal Chief Minister Mamata Banerjee said she was expecting a number of MoUs to be signed during her five-day visit to the United Kingdom.
Banerjee, who left for UK at about 10 AM today, told reporters at the N S C B International Airport here, "We are hopeful about attracting investment to make West Bengal an ideal destination."
To a question if she was foreseeing her four-year old dream to turn Kolkata into London would fructify with this visit, Banerjee said, "Let's go there first (age jaoa jak)."
"We are all going there together (amra eksathe jachhi)," she said apparently referring to the team comprising leading city-based industrialists, her ministerial colleague, an internationally known academician and Trinamool Congress MP, besides top bureaucrats.
Banerjee, however, emphasised that while her official delegation consisted of 12 members, comprising of state cabinet, senior officials and MP, the rest of the 50-member team would bear their own travel expenses.
The tour cou ld pave way for agreements on health, education and other social sectors, Finance Minister Amit Mitra had said earlier.
Apart from Mitra, three Trinamool Congress MPs Derek O'Brien, internationally known academician-party MP Sugato Bose, actor Deepak Adhikari (Deb), Kolkata Mayor Sovan Chatterjee, several officials, ITC Chairman Y C Deveshwar, RP-Sanjiv Goenka Group Chairman Sanjiv Goenka and Ambuja Neotia Group Chairman Harsh Neotia were part of the whole team.
Among other engagements, she would attend a meeting of UKIBC and FICCI to discuss various issues related to business opportunities in the state, they said.
The CM would meet the Duke of York, Prince Andrew at Buckingham Palace, the officials said.
Banerjee would also meet British Employment Minister Priti Patel at the UK Foreign and Commonwealth Office where the MoUs would be signed.
She would pay floral tributes at the statues of Mahatma Gandhi and Rabindranath Tagore and there would be a cultural event at the Natural History Museum.
She would return to Kolkata on July 31.