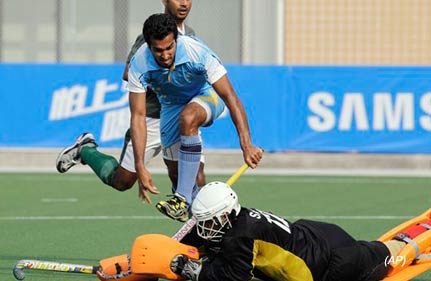 Guangzhou, Nov 23: India's dream to win a gold medal in men's hockey event of the Asian Games came crashing down after they suffered a shocking 3-4 defeat at the hands of lower-ranked Malaysia in the second semifinal at the Aoti Hockey Field, here today.
Malaysia, ranked 15th in the world, defeated the Commonwealth Games silver medallist through a golden goal after both sides were tied 3-3 at the end of regulation time, to set up a title clash with Pakistan who knocked out defending champions South Korea in the first semifinal.
Penalty corner conversion turned out to be the difference between the two sides as Malaysia converted three out of the four short corners they earned in the match, while the Indians could utilise only two out of four.
The Indians were also done in by some sloppy defending inside the circle, which resulted in all the penalty corners for Malaysia.
Coming into the match with an unbeaten record, a lot was expected of India, but they cut a sorry figure against a determined Malaysian outfit who were by far the better side on display.
Malaysia had better ball possession in the opening half and their hardwork bore fruit in the 32md minute, when Ahmad Tengku Abdul Jalil broke the deadlock with a field goal.
The Indians looked a completely different side after the change of ends and surged ahead in the 37th minute through Tushar Khandkar's field strike.
India then displayed controlled hockey for nearly 12 minutes before Azlan Misron (49th) drew the scores level with a well worked-out variation from Malaysia's third short corner.
Five minutes later, captain Rajpal Singh made it 3-2 for India with a rebound after Dhananjay Mahadik's initial flick from a set piece was stopped by Malaysia custodian Kumar Subramiam.
But it was not to be India's day as Malaysia earned another penalty corner in the dying stages of the match from which Muhamad Amin Rahim (67th) scored to make it 3-3.
With little more than a minute to go for the hooter, India got a golden chance to seal the match in their favour but Jose Brasa's boys wasted their fourth penalty corner to take the encounter into extra time.
Pressure got the better of the Indians in the additional time as they gave away another short corner in the 75th minute from which Rahim scored yet again, to dash Rajpal and company's gold medal hopes.
India will now play South Korea for bronze on Thursday while Malaysia will be up against Pakistan in the gold medal match, the winners of which would qualify for the 2012 London Olympics. PTI