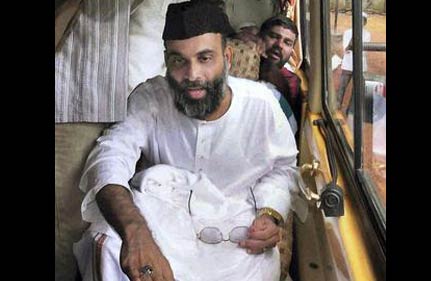 Bangalore :  Striking a different note from Home Minister V S Acharya, city police on Wednesday said the role of PDP leader Abdul Nasser Madani, an accused in the 2008 serial bomb blasts here, has "not been proven" so far in the twin explosions near the cricket stadium here early this year.
"I would not like to comment on the Home Minister's statements. However, Madani's role in the stadium explosions has not been proven so far," City Police Commissioner Shankar Bidari told reporters here on the sidelines of a function.
Bidari's remark contradicts Acharya's version yesterday that interrogation of Madani has revealed his role in the Chinnaswamy cricket stadium blasts ahead of an IPL match on April 17.
"Interrogation has revealed his (Madani's) role in the cricket stadium blasts", Acharya had stated while giving an update on the interrogation of PDP leader, who was arrested in Kerala by Karnataka police on August 17 after more than a week long drama over executing an arrest warrant.
Bidari said a thorough investigation into the 2008 serial blasts in Bangalore would be conducted, including questioning of Madani's wife, Soofiya, one of the witnesses.
"If necessary we will seek the extension of police custody of Madani for investigation purpose," he said.
After Acharya's statement, Madani had denied admitting to his involvement in the stadium blasts or any other blast, to Bangalore police during interrogation, according to his counsel P Usman.
A woman was killed and 20 others were injured in the serial blasts which rocked Bangalore in July 2008. Madani was included as an accused in the additional chargesheet in the case.
Two low-intensity blasts near a packed Chinnaswamy cricket stadium less than an hour before an IPL match left 15 persons, including five securitymen, injured.
The match between home team Royal Challengers and Mumbai Indians was delayed by an hour and play commenced after police gave an all-clear signal.
Madani is in police custody till tomorrow in the 2008 blast case.
The PDP leader was an accused in the 1998 Coimbatore serial bomb blast case. The blasts, ahead of an election meeting addressed by senior BJP leader L K Advani, left 58 people dead and over 200 injured. A trial court had acquitted Madani. PTI