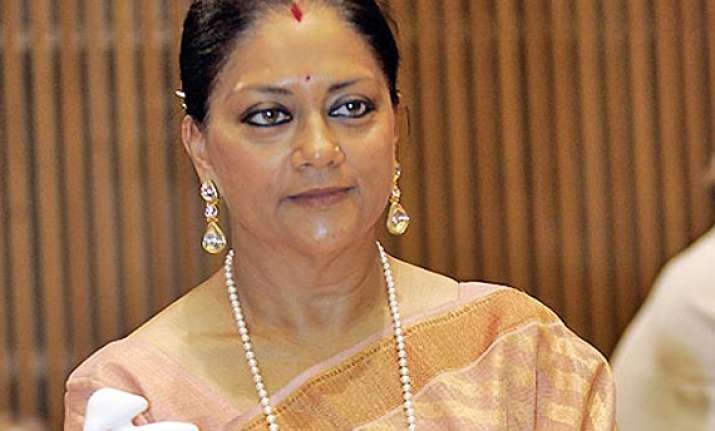 New Delhi: The BJP today released a list of 177 candidates for Rajasthan assembly polls with Vasundhara Raje contesting from Jhalrpatan, and Natwar Singh's son Jagat Singh getting a ticket from Kama, Bharatpur.
Here is the full list of BJP candidates:
Sadulshahar: Gurjant Singh, Ganganagar: Radhey Shyam, Karanpur: Shri Surendra TT, Suratgarh: Rajendra Bhadu, Raisingh Nagar SC: Balbir Luthra, Anupgarh SC: Priyanka Balan, Sangaria: Krishan Kadwa, Pilibanga (SC): Draupadi Meghwal, Nohar: Abhishek Matoria, Bhadra: Sandeep Beniwal, Khajuwala SC: Dr Vishwanath Meghwal, Bikaner East: Siddhi Kumari, Kolayat: Devi Singh Bhati, Lunkaransar: Sumit Godara, Dungargarh: Krishna Ram Nai, Nokha: Sahi Ram Bishnoi, Sadulpur : Kamla Kaswa, Sardarshahar: Ashok Pichha.
Churu: Rajendra Rathore, Ratangarh: Rajkumar Rinwa, Sujangarh SC: Khemaram Meghwal, Pilani SC: Sunder Lal, Surajgarh: Santosh Ahlawat, Jhunjhunu: Rajvir Singh Shekhawat, Nawalgarh: Jagdish Saini, Khetri, Dataram Gurjar, Fatehpur: Madhusudan Bhinda, Lachmangarh; Subhash Mehria, Dhod SC: Goverdhan Verma, Sikar: Ratan Jaldhari, Datarangarh: Harish Kumawat, Khandela: Bansidhar Bajeya, Neem Ka Thana: Prem Singh Bajore, Sri Madhopur: Jhabar Singh Kharra, Kotputli : Banwari Lal Yadav, Viratnagar: Phool chand Bhinda, Shahpura : Rao Rajendra Singh.