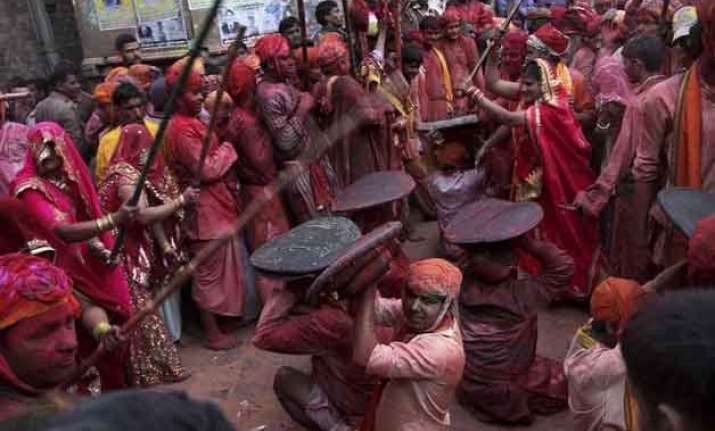 Barsana: Ahead of the famous Lathmar Holi on Friday, when Barsana's lathi-wielding women - "Huriyarins" - will burst into a riot of colours, raining their well-oiled batons on men, the battle against liquor shops has been won.
Threatening to boycott the Lathmar Holi, the Barsana women managed to force Mathura district administration to bow down before their demand to close liquor outlets in the holy town.
District magistrate Rajesh Kumar and SSP Manzil Saini after meeting a delegation of saints and ascetics, who were on the war path for the last few days, agreed to close liquor shops temporarily Thursday and later recommend to the state government to declare Barsana a dry zone.
The district administration has formed four committees that will keep a vigil on the liquor shops, egg and meat sellers, who have been asked to move out of the town.
Leading the agitation, Sudama Kutir mahant Ramrajdas Baba said: "In the 'dhaam' of Radha, we will not permit at any cost sale of liquor, eggs or meat."
Vrindavan is already dry and sale of eggs and meat is restricted.