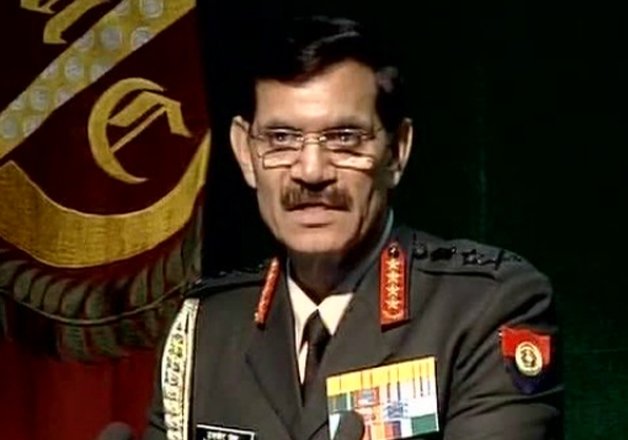 New Delhi: Days after suspected LeT operatives struck in Pampore in Jammu and Kashmir, Army Chief Gen Dalbir Singh Suhag today said that Pakistan was giving 'candid support' to terror groups like JeM and LeT as he called on the international community to join hands in combating the menace.
"Terrorist groups like LeT and JeM get candid support from across our western borders," he said at a seminar organised by army think tank CLAWS.
The attack at Pampore left three army personnel dead, including two Captains of the Special Forces. Two CRPF personnel, too, were killed by three heavily armed 'foreign' terrorists who were shot dead after a fierce 48-hour-long gun battle.
Pakistan based terror Lashkar-e-Taiba has claimed that the three militants who died in the Pampore gunfight avenged the death of two Kakapora civilians by killing army captain Pawan Kumar.
Suhag also said that the spreading influence of Islamic State, in particular through social and other forms of media, has thrown up challenges of global and regional security.
"What is worrying is that these groups can no longer be dismissed as regional manifestations of violence," he said.
Noting that such jihadist outfits take advantage of the international connected systems of finance, commerce and transit to stay flexible and reach any part of the globe, Suhag said it was "necessary for international community to fight this menace as one by sharing of intel and adoption of training techniques from each other".
He added that the 9/11, 26/11 and recent Paris attacks have changed the perception among world leaders regarding the threat from terrorism.
The Army Chief said, "We need to address not only the methods but also the factors that contribute to the spread of terrorism. The main threat comes from fundamental ideology and twisted interpretations which are promoting radical thinking."
BJP leader and spokesperson M J Akbar, who also spoke at the event, termed Pakistan a "sanctuary of jihad".
With PTI Inputs