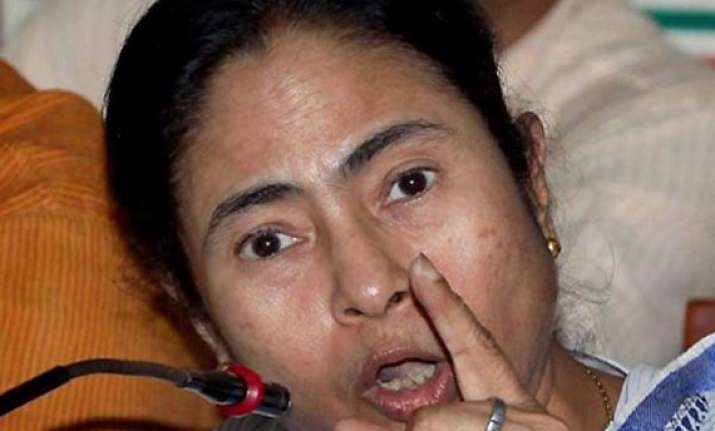 Kolkata, Jan 10: West Bengal chief minister Mamata Banerjee was at her fiercest today when she said 'let dogs do the barking', we will continue our work.

At a meeting of State Minorities Development Corporation here, Banerjee lashed out at the Congress for raising the Indira Bhavan renaming issue.

"It's our duty to honour Tagore, Nazrul Islam. If anybody obstructs, I am sorry, I can only say, you have all the roads, all the buildings in your names, at least give some  light (aalo) so that people can see Tagore and Nazrul".

Banerjee said, there are people whose only job is to make speeches and criticise.

"I want to tell them, go on doing this, because you don't know any other work. But please let us work. I don't bother about your speeches. There is a proverb "Babu chale bazaar, kutta bhonke hazaaar" (Babu goes on his walk while dogs bark).

Political circles were agog speculating whether Banerjee meant the Congress or the Left, but with Congress carrying out rallies and the Left lying low, the barb appeared to be aimed at the ally.

Mamata Banerjee today made it clear she would not change her decision to rename Indira Bhavan and reiterated her charge that its ally Congress was colluding with the CPI-M to organise sit-ins and road blockades.

Most of the roads, establishments and projects in the country were named after Congress leaders and when the state government took an initiative to rechristen Indira Bhavan as Nazrul Bhavan they (Congress) were trying to foment trouble, Banerjee alleged.

Indira Bhavan was named so after former Prime Minister Indira Gandhi had stayed in the bungalow at Salt lake during the AICC session in 1972.

"There are so many roads, institutions and projects which were named after their leaders. There should be some left for other great people who took part in the freedom movement and worked for development," she said speaking at a programme of the West Bengal Minorities Development and Finance Corporation.

The chief minister stuck to her charge that Congress was colludingwith CPI-M to organise dharnas and road blockades in the state, but said "those who are doing this, cannot stall the development process."

She said Nazrul Islam was not a leader of any single community. He was a national leader who left his mark in the freedom movement through his writings. 

"An Indo-Bangla joint research academy on Nazrul will help us carry forward studies on the great poet and strengthen bilateral ties with Bangladesh," Banerjee said.

Taking a dig at the CPI-M, the chief minister said that the CPI(M), which had left a debt burden of over Rs two lakh crore, had no moral right to raise its finger at the government.

"Despite fund constraints, we are trying to implement projects much faster than the previous government. What we have done in seven months, the LF government in its 35-year rule failed to do even a part of it," Banerjee claimed. 

Banerjee said that her government had allotted five acres land to set up a Haj Tower and 20 acres land for the establishment of Aliah University, besides initiating steps to recognise 10,000 madrasas in the state.

Some languages, including Odia, Nepali, Gurmukhi, Urdu, Hindi, Santhali, have been declared as 'linguistic minorities'.

"The Singur land, acquired for the Tata Nano project is now with the state government, but a court case is pending.  The government will return the land to the farmers after the court case is disposed off," she said.